Tuesday 24th May Horseshoe
Ian had fished Horseshoe before and his Pb carp had come from there of over 30lbs.
This time the target was for a large tench.
We arrived at 7am and I started to fish as Ian needed to get a ticket at 8.30am.
There had been very few carp out the day before. However a couple of the Scottish Tench Fishers who stayed on had caught a 10lb plus tench on the Monday. Which is great stuff.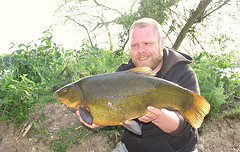 So the challenge was there for us to do something similar. The method was an inline feeder with red maggots and plastic ones on the end. This had been a tried and tested method on the water for me over the years. The small rudd are a problem should you use the real thing. We had decided on a swim that had produced for me and the Tench Fishers over the weekend. A fish of 9lbs 9oz had been caught.
The only problem was the wind was from the northwest and was very cold again. Why do us anglers think about so many problems in fishing wind, low and high pressure. What about the moon phase…… so many excuses.
Once all the tickets were sorted Ian fish in-liners and me I fished worm just off the bottom. At about 11am I had a screaming run and hooked and lost a fish which left me hookless. I believe it must have been a pike. I have never had a hook knot fail before.
The dawn was as beautiful as ever. Not this day though the wind just blew and blew.
 We had fished hard and nothing but nothing showed. No rolling bubbling, a few carp popped out near the far bank. We fished until 9pm and then we were cold enough to pack in.
I have never had such a difficult two days fishing in my life.
You can "Lay the table for dinner but cannot make them eat"
Ian and I had a great time and will fish together again in the future that's for sure.