The spring should bring warmer weather however not this. I normally start my tench fishing the very first week of April however this year the spring weather meant frost for most of the month. They said it was the most number of frost in April ever recorded certainly the coolest. I think our area was something like 15 nights of frost. The wind seemed to be blowing from the north or east most of the month. I made a visit to renew my ticket for the year and there to greet me on the 12th April was snow on the ground.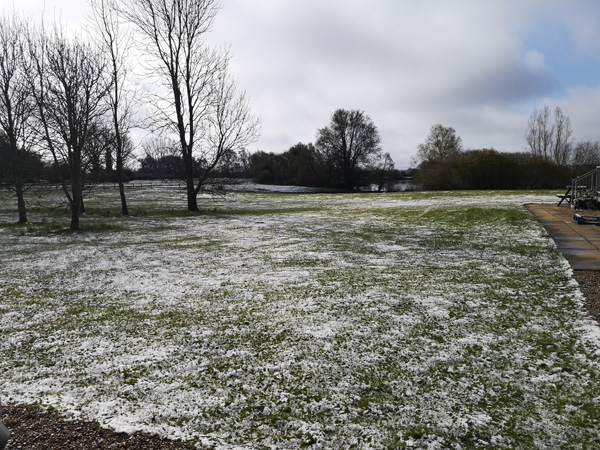 The winds and cold conditions continued for the rest of the month. There was a slight improvement in conditions around 19th April which saw me start the campaign. It only lasted a couple of days and the cold weather soon returned.
The lake I was fishing was producing the odd tench with a red letter day of 6 to one angler. I really thought they were moving into the shallower part of the lake. So off I set for a couple of days fishing. The forecast was saying slightly warmer weather however still with frost at night. So I did put on the extra layer of the 5 seasons sleeping bag.
My goodness tench fishing is supposed to be a spring and summer affair. It felt more like winter.
I arrived and settled into a swim which had been kind to me over previous seasons. First I spombed out a few pellets dead maggots and chopped worm. I think I put out about 3 as I didn't think there were many fish in the area. I was using dendrobaena worms on the hair with chopped worms in the feeder. It was sure to be slow going.
However at 12 noon the bobbin on the left hand rod shot up to the butt and line started to run off the reel that was in free spool. I lifted into a nice tench which pulled back quite hard and went on some long runs. It was fighting like a male fish. Just as I was playing the fish Miles came around to check tickets and was able to net the fish for me. I quickly unhooked a good looking male tench of 5lbs 10oz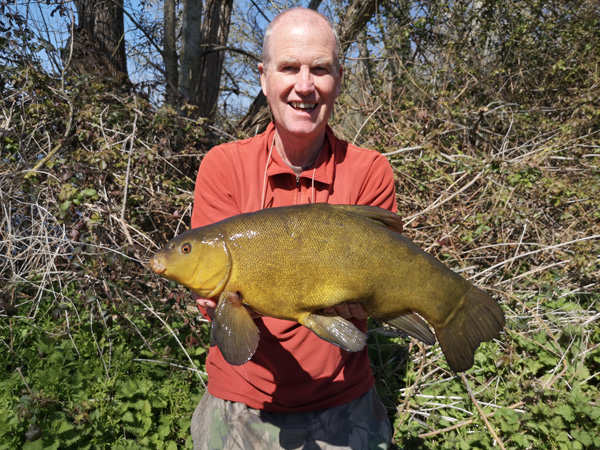 Miles took a few photo's and I said to him he bought me good luck and he could visit as often as he liked.
I thought that I would get a few more fish as the temperature climbed up to a heady 15c. However that was pretty much of it for the day. I don't do much night fishing preferring to sleep at night and being ready for an early start. I don't like catching the big brown monsters (carp) at night. I listened to a little bit of football then drifted off to sleep for the night.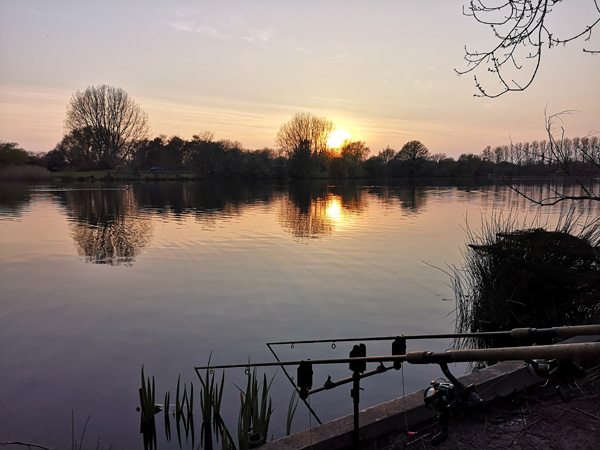 I was so pleased I had put on the extra layer of sleeping bag as the temperature plummeted to below zero once again. I woke with frost on the ground and on the bivvy.
I was up at about 5am as the dawn chorus of first the blackbird followed by the robin then pigeons followed by the remaining birds. The moon was just setting on the far bank horizion and the lake looked quiet not a fish showed or any bubbles came up from feeding fish.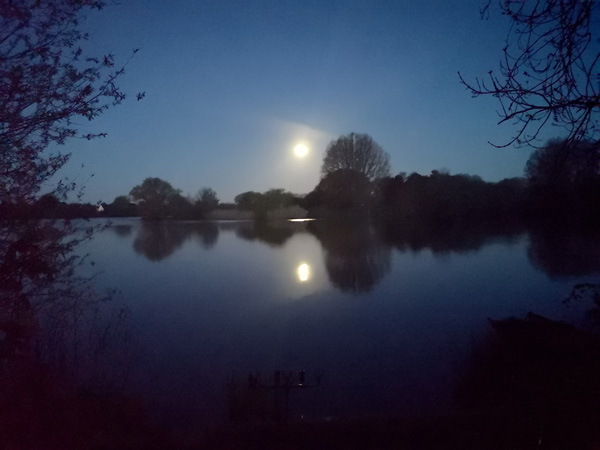 So I sent out a couple more spombs of food and recast the rods. I was casting 40 yds but need to say that my casting skills had deserted me yesterday as I hadn't cast a rod into a lake for Tench for the best part of 2 years. It was comical to say the least. Distance casting is not one of my strong points but 40 yds is comfortable and the rhythm of recasting every 45 mins soon had my skills regained.
The sun came up at about 6pm and slowly raised the chilled air temperature and fingers slowly thawed out. At 7.30 I had another take on my right hand rod and once again I thought it was a male tench as it shot off all over the place. It was wonderful to be playing tench again. The tench was not big but another male of 5lbs 8oz. Who cares it's a tench and no blanking. I continued to cast out on a regular basis however nothing else came along and at 7pm I packed up and travelled back home. So no blanking. I summed up the trip as a good one. I took far too much tackle, gear, food and just about everything else. So it was good to have a sort out and trim down for the next trip.