This week Monday 3rd September 2012
I had guided Nick before on the Bristol Avon with his mate Steve. This time Nick wanted to see if we could catch a few chub, barbel and large roach…..so he wasn't asking for much in one day. So Monday came and it saw us heading off to the Bristol Avon.
First stop was to fish a swim that produces some good barbel. We baited with hemp and pellets with a dropper. Then went for a walk. On returning about 15 minutes later there were a few chub feeding including the white headed chub. However no barbel came into the swim. We tried for the white headed chub without success and proceeded down to the next swim.
Second  stop was at a great swim where normally the chub and barbel would feed. Out went some hemp and pellets into the swim via a dropper. I had an emergency call from home from the boss saying that the garage door wouldn't open……One hour later after fixing the problem I was back with Nick, who had been smashed up by a big barbel….oh bugger!
We went down to a great chub swim, and they were taking floating crust…….first cast Nick hooked a lovely chub only for it to get off…..oh bugger!
Next we moved swims again this time to a great stretch of the Bristol Avon that holds some of the biggest barbel. We fed the swim with hemp and pellets again. It didn't take long before the tip whacked around again. Another nice chub came off in the fight…..oh bugger!
We went to another swim where I had seen a double figure barbel a couple of weeks ago. We fished it for about 40 minutes without reward…..oh bugger!
We returned to the original swim only to miss a beautiful 3 ft twitch….oh bugger!
It was going to be one of those days!
We finished on a gravel pit catching plenty of roach but none of the biguns came along…..oh bugger!
Don't worry there is a great ending for Nick later in the blog.
Now I've worked with Steve for a while in certain chocolate factory in Keynsham. We have been firm friends for many years. For a birthday present I gave him a day on my syndicate part of the Bristol Avon. It's like a chalk stream on the upper reaches.
He fished the river for trout and caught some lovely trout including this beauty of about 1.5 lbs on a nymph.
We then fished for barbel in a swim that you can see them take the bait same swim as I took Nick the previous day…..guess what he caught a barbel of 8lbs 4oz. we saw arrive in the swim pick up the bait realise it had made a mistake and bolt off……..magic
I had one very short session on the Bristol Avon after a really big fish that I had seen 12lb plus for sure.
Well in the end the bigun turned up a couple of time and took the odd pellet but not mine. In another swim I caught a little barbel of 6lbs 4oz.
To end the story for the week Nick returned to the two swims on Thursday that I had showed him on Monday. First he caught a pb chub of 4lbs 10oz. Then in the second swim he caught this lovely barbel of 10lbs 4oz. Well done Nick I'm so pleased for you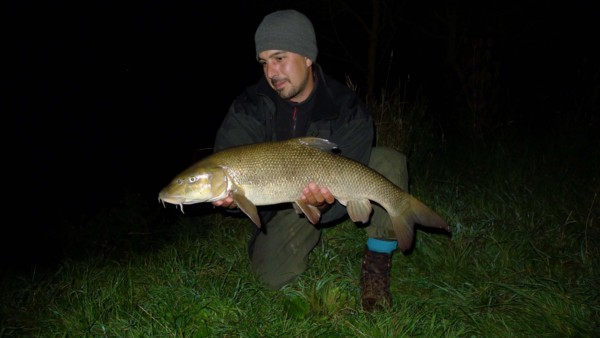 So a mixed week but as I normally say "I love it when a plan comes together".