Reflections of the last 6 weeks and great tench catches
Sometimes you need to reflect on what has happened over the last 6 weeks or so. The reason behind this is that basically I have personally been having a nightmare on the fishing front.
I had another poor session fishing the lake at South Cerney. The weather had been kind with little wind but plenty of cloud. I started in one swim where I saw a few tench rolling. On the first afternoon I caught 2 tench to 5lbs 14oz. However after another 24hrs not another touch. So I moved to another part of the lake and to be frank nothing much changed. Rob a friend arrived the next day and I told him the story of the last two days. So on hearing this news he decided to head to the other side of the lake. 10 minutes later I had a call from him to say the tench were rolling and a carp guy had just caught one of 9lbs 4oz. Rob invited me over to fish next to him and in the area where the tench were rolling.
I have never packed up so quickly. Soon with everything packed away (wet from the rain) I was heading over to join Rob. Sure enough the tench were rolling down along the whole bank but also at about 60yds distance. I soon had some maggots and hemp put out at 30yds and at 20yds in an attempt to ambush them as they patrolled along the edge of the lake.
I had set up a temporary shelter as storm clouds were gathering. As time went on I had one take from a tench briefly pulling back before the hook fell out. The rain poured and poured for about an hour.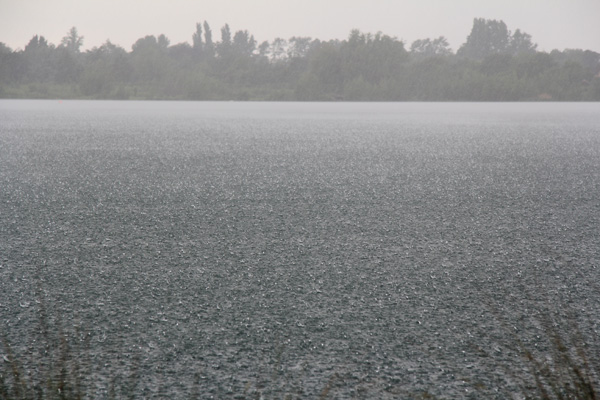 I needed to be off home at 9pm so that was it for the session. Rob was to be there for 4 days and I just knew he would start to catch. No blanking for me though.
I called Rob the next day and he had a male tench of about 7lbs but that was it. Then for the next 3 days he continued to blank too. So that's the best part of 7 days fishing between us for 3 tench. This lake is not giving the tench up easily.
Yet another chap I know had 15 in one day. I guess it's the time of year when they shoal up ready for spawning. Very hit and miss.
My mate Graham has not been tench fishing with me for a couple of weeks. He is now a TV star. He has been filming Escape to the country with the TV company. He has told his pals down the pub that he is on £27000 a day plus expenses of £2000. A few have taken this in!
He has sold his house near Cardiff and he wants to move down Somerset way. So a lot of the filming centres around his fishing requirements. He has filmed this sequence in Somerset and next week they are taking him to France to view some properties there.
It sounds wonderful and he is having the time of his life. Good luck Graham.
So another pal Paul phoned to say he was fishing Linear over the weekend and a good few big tench to 11lbs had come out the week before. He also said another double had come out opposite him during Saturday.
He also told me that Dia Gribble was on there. So on Monday I phoned Dai who said it was fishing well and he had been landing some good fish, well 16 in a morning is quite good!
So Tuesday morning saw me grabs some maggots and casters from Scott tackle and head off to Linear. I've fished plenty of lakes around the complex but never Linear Fisheries.
On arrival I met up with Dai and Shaun plus Adam who were doing a feature for Korum Tackle. They are consultants for the company. It was good to met up with them, I can't say too much on here on what they caught because they need to complete the feature. All I'll say is that it will be stunning for sure with some huge tench. Well done chaps.
Dai was leaving at 11am as were the other guys however Mark another guy was moving into Dai's swim and I moved next to him.
Tench were rolling all around my swim however they were all little males so I was told. So I opted to fish further out at 40yds where there was a clear patch.
A 56g blockend feeder with live and plastic maggots as a hair was the bait. The evening was quite with a few tench rolling. During the night carp were crashing out all around my bank. The alarms though remained quite.
I was up at 4am putting out more bait, tench were rolling close in however they were the small males again. Mark had his first tench at 4.30am and steadily caught throughout the morning. I went over to see him to see when he was off and to admire a 9lb 3oz tench. He then told me that he had promised the swim to another angler and that he would be leaving at noon.
So at noon a couple of chaps moved in. Little did I know but they were a couple of guys who fished Willow lake with me for the big roach on the Linch complex just down the road.
They were there for the night and the next morning the same as me. I was slightly disappointed not to get the swim but sometimes that's life.
They don't normally fish very often so with them casting in the wrong area I was soon around there showing them were Mark was fishing and at what distance, Dai had told me this.
Little happened during the evening other than them catching a male tench at 9.30pm. Again my alarms were inactive during the night.
The next morning it was a hive of activity in their swim with them catching tench after tench. I was helping them both catch pb's. Weighing fish, photographing fish, double hook ups. It was all great fun. All to soon it was time for me to pack and travel home.
Two very happy chaps with smiles and grins like huge bananas were worn on their faces.
Happy days.
Mrs P is very understanding when I come home from another camping holiday (that's when I have a blank). She says what would you rather have, the clients blanking or me blanking.
Ok that puts it into perspective. I would rather have happy smiling faces from clients and friends who I help for sure, however one or two big tench would be nice for me too!
Take a look at these smiling faces from the last 6 weeks, and I don't feel too bad. My turn will come I'm sure.