Big perch and some nice tench
I said in my previous blog that for me the fishing hasn't given me too many large tench. Well I always say large tench need to be over 8lbs.
I headed to one of the lakes around South Cerney for another try to catch some of the huge tench that swim in it's waters. I set the alarm for 3.30am hoping to get there by 5am just in time to see whether any tench were rolling. I had decided to look before setting up. I spent 15 minutes looking in one area on the tail of the wind. Nothing showed so I drove to the other side of the lake where I saw several roll. So this was it I unloaded the gear and soon had the feature finding rod working the lakes bed. I found a nice weed bed at about 45yds and so decided to cast just past it to intercept the tench that tend to patrol along using them as highways.
After about 10 minutes Mark a friend turned up to fish the same swim. Bugger bugger I could sense his disappointment. As we saw a couple of other tench roll I said to join me in the swim and see how things go. He was too be fishing to the right of the swim where-as I was fishing to the left.
I soon had a mixture of red maggots, pellets and hemp cast to the spot as some feed. My rigs were to be in-liner plastic maggot with a few real ones on the hook. Also one had a worm put on as an alternative.
I tend to fish 3 rods on this water to cover most of my options.
I was fishing by about 6.30am when it started to rain. So I hurried to put up the bivvi to keep most things dry. I could sense that Mark wasn't happy with his swim and said that he would give it until noon then perhaps move.
I was reasonably confident. Mark did say that the wind would change direction during the morning which it did. He also said that the speed would increase to 20mph the next day. At 8.45am I had a great take that produced a nice tench of 6lbs 10oz
So no blanking for me
At 9.30 the rod was away again this time the tench fought like a male and turned out to be one of 6lbs 2oz.
I had two more in quick succession at 12 noon but nothing much over 6lbs.
This was not what I was after.
In the mean time Mark had moved down to the other bank where a friend had caught 11 to just over 8lbs a couple of days previous. The wind was getting stronger and blowing powerfully into the bay and it was looking like a good move by him. At about 3pm after not interesting any more tench I wandered down to chat to Mark. As I arrived the chaps just down the bank hooked into a good tench. I wandered down to have a chat and to take a look at the fish.
The tench was 8lbs 8oz and very beautiful. Chris was the captor. His Dad Jerry recognised me from a good few years ago, and so we had a good chat.
So that was it with the wind blowing in hard to the bay I would move. Some would think it madness moving after catching 4 tench in the morning however I tend to think the tench move around in shoals of similar size. Also where I was fishing it would be extremely difficult to hit the spot when casting out should the wind speed increase. So by about 4pm I was set a few swims away from Chris and Jerry, but in an area where the wind would blow. I fished really hard for the remainder of the day as did Mark however we were not rewarded. Whereas both Jerry and Chris continued to catch.
I had to laugh as Jerry and Chris had practically packed up with just the rods out and darkness was just around the corner. Chris reached down to reel in for the day and I heard the alarm sound and sure enough he was playing another good tench. Between them they had 10 takes and landed about 7 tench with 2 8lbers and several 7,s. I settled back for the night with some boilies on the rigs hoping for a tench or perhaps a carp. It rained a little over the night but it was warm.
I was up at 3.30am and looking around for rolling fish. Sure enough they would start to roll at one point and travel down the bank for 200yds then go back and start again. I saw this happen twice so didn't need an invitation to move swims again. They seemed to stop rolling and not come along my bank. So at 4.30am I was moving again to the same swim where Chris and Jerry had fished the day before. I felt guilty as Mark had said he wanted to fish it however there was room for two anglers and I would leave Mark to fish the best area where Chris had caught his large tench.
Mark arrived at about 5.30 am as he had gone home to sleep for the evening. I did feel guilty as I said but with the swim free and fish rolling in it and it being empty it would have been rude not to fish it. Sure enough Mark got into the area where Chris had been fishing and catching the larger tench.
As he tackled up we saw a few more tench roll both in his swim and further up the bank. Then the wind speed increased and spotting rolling tench became impossible. I'm not sure about the timings of the fish caught as things became quite hectic. I hooked a wonderful tench of 7lbs 11oz which fought like a demon. I saw the hook drop out from the fish as it dropped into the net and whilst it was in the net the another rod was away. Mark did the honours with unhooking the first tench as it was now hooked in the belly area. So not quite sure about how authentic the catch was but I'm positive the hook came out from the mouth area.
Never mind at least it wasn't a big one!
The other tench was 6lbs 5oz.
I was getting embarrassed. Mark did say he was pleased to be my official photographer. Well it's his job in the real world.
We had a bit of a lull in sport and I walked up the bank to see if there were any tench rolling. On returning I could see Mark was just about to land a tench on one of my rods.
6lb 8oz was the weight.
The wind was getting stronger and this cooled the air. Out of the blue I had another take from a tench and this one went 7lbs 8oz. Still not past the magic 8lb mark. This was followed by one more tench of 6lbs 6oz.
I was thinking come on Mark please join in.
Soon he was rewarded with a 6lbs 6oz tench that fought really well for it's size.
The wind was getting much worst and I kept feeding the swim as I thought a few more might just come along.
I had a strange bite from a fish that I hooked. The bobbin kept going up and down like a yo-yo. I said to Mark that's a strange bite. It was if weed had caught on the line and was bouncing up and down from the wave action. I struck and as I played the fish towards the net I hooked up another line and Mark helped me sorting things out.
As we looked a good perch came out of the depths towards the net. Bingo in she went.
I thought a big two.
However on the scales it went 3lbs 2oz and looked beautiful with very vivid colours.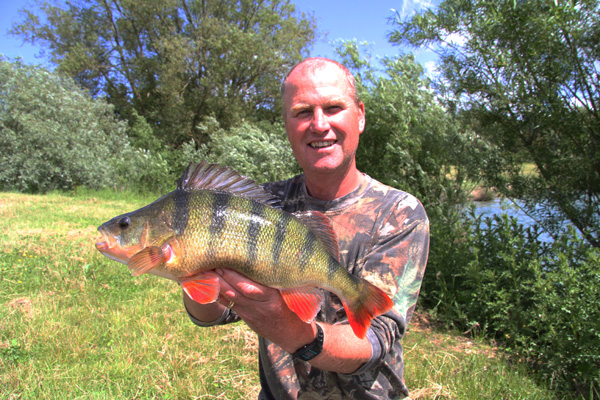 This came from the rod with an inline maggot and worm on the hook held on with a couple of live maggots. I was pleased to have caught such a good fish. I've had a couple of 2lbers in the past but not a 3lber from the lake.
Things continued with the wind speed increasing and bite detection being very difficult. However I had another FUNNY bite from another perch this one went 2lbs 12oz
Mark and I couldn't believe the stunning looks of the perch.
I couldn't believe it again as the bobbin rose and fell a few times. I could feel another good perch tugging back on the end. In these crystal clear waters it's something special when a good perch comes up into view from the depths. It was clearly another good fish.
We weighed it on Marks scales and mine and both gave the weight of 3lbs 2oz. Well I never or something like that was said.
For me that was it for the day.
Mark had another tench this one being his largest of the day at 7lbs 4oz. A stunning tench as were all of the others.
We fished on until about 7pm. Mark was off early in the morning to go to London, I had been up 3.30am for the last two mornings with little sleep and I was bushed! I had to be up early in the morning to travel to Yorkshire as well.
My mate Graham turned up at about 6pm and set up camp in the swim to see if he could continue to catch the tench.
I know the next morning he had one of about 6lbs then he called me to say he had just taken some photo's for another angler just along the bank of a 10lbs 2oz tench!
Happy days!
Mark and I both agreed it was a love hate relationship with the lake. At the moment it's the former.
We were treated to a sight I had not seen before that was of a stealth fighter going over each morning and afternoon. I can only guess it's ready for the Fairford air show! Very impressive if I was in it's sights then I would be very worried indeed.