Hampshire Avon sessions and another 6lb chub
Well my cold had been still around and was in the 3rd week. I was though feeling well enough to tread the banks of the river. I have to say also the death of my Mum in September had the fishing put on the back burner. The appetite just wasn't there.
So with my mojo returning  it was time to get back at it. My mate Andy (you should have been here yesterday) Cowley was doing some pike fishing and lost what he thought was one of biggest he had lost. He phoned me to say that he was going back down in a couple of days and catch it. He said he cast out twitched the bait a couple of times and bang it was big fish on. It was quiet to start with so he told me then the fight erupted into a right old struggle. It turned out to be 25lbs 1oz. What an effort, Angler and fish. Well done Andy.
I fished a couple of times with Mark Woodage the last one was for barbel. The air temps had been around 15c and the water temp was 11c and some colour from the previous days rain. Everything looked perfect however nobody had told the barbel this.
Mark had a really great day with the chub too landing 7 up to 6lbs 9oz which equaled his pb. I fished further down river and only had a couple of chub and plenty of grayling and the pesky minnows, Oh how I dislike these little darlings at this time of year.
I then had a couple of short sessions float and feeder fishing lost a few fish through hook pulls one late afternoon and one beat me up in the willow branches. I don't think I have float fished much this year so I put this down to rustiness.
I did manage  4 chub the next afternoon. The fish were topping in the swim for most of the afternoon however it wasn't until the last couple of hours did they come onto the feed. I had a few small ones of about 4lbs.
As dusk approached the rod belted over after hooking a very angry chub. It jumped 3 times never seen this before and thought it was a sea trout. Then it pulled me all around the swim diving into the deep water under my feet. Didn't mind this as there were few snags there. It kept going and going however after a couple of gulps of air it was ready for netting. This was possibly the best ever fight I had from any chub before.
I unhooked the great looking chub and took out 2 other hooks and one of them was mine. On the scales she went 6lbs 7oz and so my 5th 6lb plus chub of the year. I had my phone set and ready to go when it started to rain so a couple of quick snaps and I returned the fish. It wasn't until later that the photo's were poor. I had broken my glasses too which didn't help.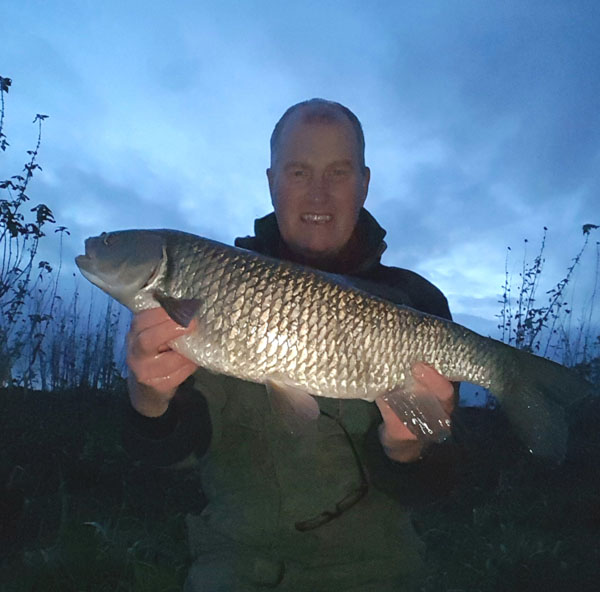 Never the less I'm back in the saddle again.