December 2017 fishing
December started off really cold with north winds blowing and snow showers. The river remained so low and clear making fishing difficult for chub. Barbel fishing pretty much on the back burner for the first couple of weeks. I fished the H Avon for a few days and it was tough going. I wasn't alone in this as others were in a similar boat.
Those that were caught were small chub, I say small chub 4-5lb which is average for the Avon but on other rivers a good size. On the H.Avon we do become complacent with the size of chub we are catching. For example on the Bristol Avon we would be over joyed at catching a 5lb chub.
The days are noticeable  short this month and combine this with drop in temps it's never easy to fish. Although you can still have that red letter day if you get it right.
I fished with Mark for a day and again it was difficult going I think we both blanked and I didn't have a bite all day. As Mark say's she can be a bitch at times and today was one of those days. We did meet early in the lodge for coffee and pastries which is a wonderful way to start the day.
I even took a look at the D.Stour one day but didn't have my chest waders so was unable to fish it correctly and on the feeder all I could catch were minnows. I would cast out and then reel in after 30 secs with one of the little blighters on the hook. I did meet Neil Maidment and spoke to him and watched him feed his swim and then for 15 mins trot the swim. Bingo he caught a nice chub and went on to catch a few more throughout the day.
I moved back to the Avon and fished a swim I had not fished before and caught 4 chub with the largest being just over 5lbs
So no blanking and a good session. I walked up stream and bumped into Andy Little and helped him carry his gear upstream. I wanted to take a look at some swims for the next visit. I stopped and watched him trot a great looking swim for 10 mins or so. Nothing came along so I moved back downstream to finish the day in another swim. By the time I had walked the mile or so back Andy phoned me to say he had a 7lb plus chub and was clearly a very happy man.
I caught  couple more small chub of between 3-4 lb
Well that was it as Christmas was just around the corner and perhaps I could have one more session.
The river was still low and I fancied swim feeder fishing a swim that you can only do so in low conditions. I normally bait dropper in about 6 lots of bait then go for a walk and return and start fishing after about 1 hour.
Sure enough I caught some small chub but nothing over 5lbs. The fish were swirling all over the swim as it got dark but alas it was only 2 fish for me.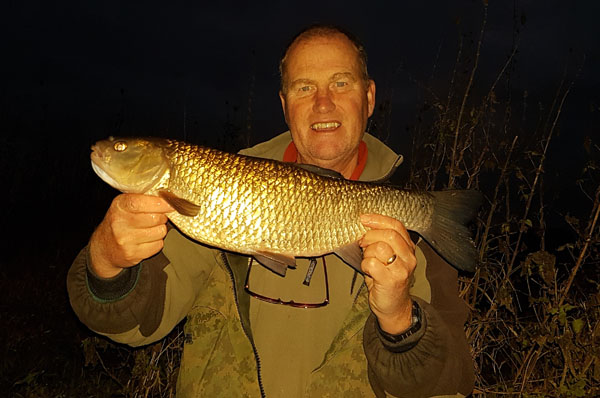 The great thing about the Avon valley is that you can have some wonderful sunsets with mist gathering late in the afternoons over the meadows. It's a stunning place all you need is the barn owl to put in an appearance which it sometimes does.
Christmas and seasonal stuff was now knocking on the door and getting in the way of angling. Not to worry too much as I was going to stay from 28th December until 6th Jan in the Avon valley and I must be able to get some fishing under my belt.