First tench fishing season 2019
With a big fat blank after big perch I couldn't wait to start my tench fishing season. This normally starts around the beginning of April or thereabouts. It really depends on the weather and how warm it's been. This year I'm back on familiar territory and fishing a large lake once again.
The area I normally fish is fairly shallow at about 4 ft deep. There are some clear spots with gravel but most of it has a silk weed bottom. There is plenty of canadian pond weed coming through as spring moves on. However this isn't a problem until way into May.
Sure enough the frosts of the previous week had disappeared but had been replaced with rain and winds from the east. Hardly conducive to perfect tench fishing conditions but at least the water was not getting any cooler. My session was going to be for 3 days.
Firstly to ensure I had all the tackle and bait requirements plus all the cooking equipment was functioning.
Arriving at the lake at 7.30am I decided to fish a swim that had been kind to me over the years. A quick feel around with a lead had me locating the gravel patch which has been clear for years. My first job was to spomb about 2 pints of casters hemp chopped worm and dead red maggots around the area.
My approach was to feeder fish with maggots, heli rig with worm and a caster PVA rig that I've been using with fantastic results. I could only use 2 rods so I could alternate with the various rigs and see which one the tench would be interested in.
A worm rig and caster rig was my first choice and these were cast out onto the gravel. This is how the casters rig works under water.
The rain held off while I set up the bivvy which as it turned out was extremely lucky. The cold wind kept the temperature around the 10 to 12c.
Soon the rain came in and it poured and poured. Heavy shower after heavy shower. I was really pleased I had bought along my Nash double top bivvy, it's huge and allows me to have plenty of room for everything in comfort. I saw little sign of any tench activity other than perhaps a few bubbles once. Then just as the heavens opened again the bobbin rose to the rod and line came off the spool. I lifted into the fish and the rod bent into a satisfying curve and line came from the spool as it fought for freedom. I wasn't too concerned as there was little weed around for it to be caught in. It really fought hard taking some line from the reel occasionally. As it came closer the vortexes on the lakes surface became larger and I recalled thinking it was a small carp. However as it came closer I could see that it was a huge tench. It twisted and turned like they do and observing this in the crystal clear water had my heart pumping. Having said that it was soon in the net. There I let it rest whilst I put on a water proof coat. To late I'm afraid I was soaked!
Whilst the fish rested I got the scales, mat and camera sorted out. She looked close to a double. I recognised her from 2 years ago when I caught her at 10lbs 4oz. Wow I thought catching a double on your first visit to the lake was unbelievable. On the scales I held my breath as the reading hovered around 9.15 and 9.14.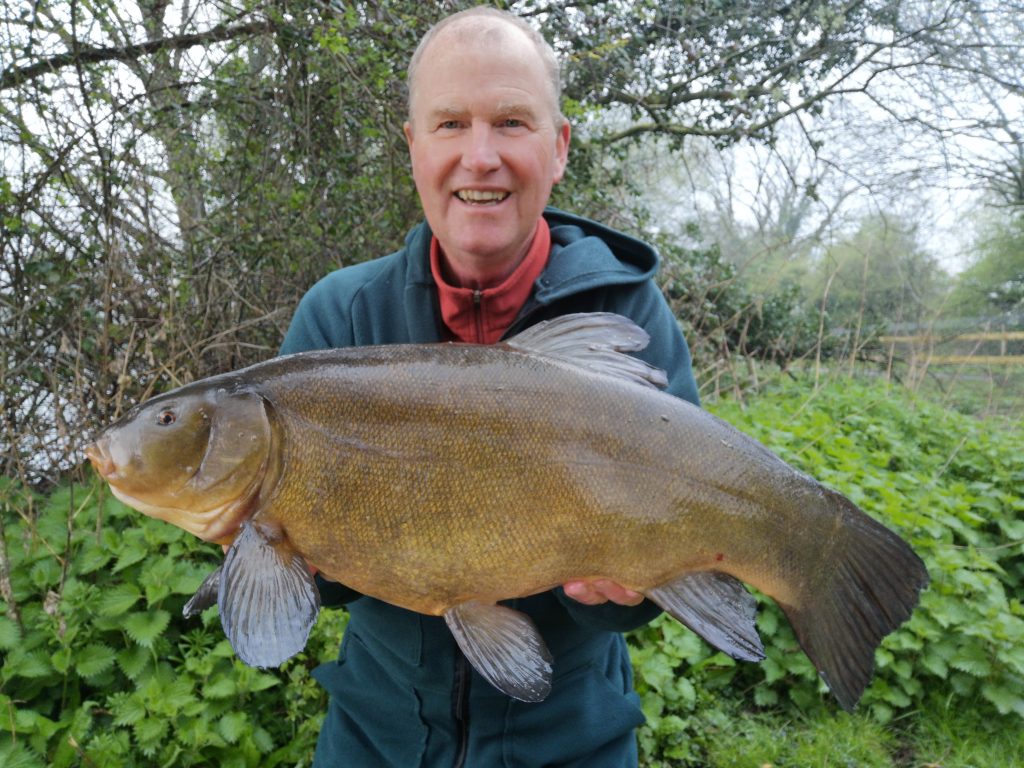 What a start for me. So with renewed vigour and optimism I recast out the rods once more thinking there would be a few more to come.
WRONG!!
I fished for another 24hrs in pouring rain day and night. Other than some single bleeps from silvers trying to steel the plastic baits. News came from Chris that he was getting a few tench much further away on the lake in 7ft of water. He was casting 80 yds to reach them. He was leaving so I said that if he didn't mind I would pack up and move into the swim.
Funny thing is that I bought everything and the kitchen sink along for my first session and it took me ages (1hr.) to break camp and move to the new swim. Luckily again the rain held off for the move.
Chris was just packing his last things away as I moved my last load of equipment. I said my thanks to him and said I would report back to him how things developed.
I reset the lines to 80yds and changed the tip to 2.2lb test curve to allow me to reach the distance. I had previously had 1.75 ones and it was mission impossible to reach that far.
With rods set up at 4pm at 80yds I was hoping for some action. It didn't take long before the worm rod was off and running. I lifted into the tench and it was strange to be playing a fish at range. It pulled me around a little and then found some anadian pond weed close in and got stuck. However with constant pressure the fish twisted and turned and came out. It looked a good fish. I unhooked it in the new Korum fast mat. I don't normally promote tackle products but this mat is fantastic.
So after unhooking the fish I returned it into the water in the landing net. I then went about getting the weighing equipment ready. Whilst I was doing this the other maggot feeder rod was off with another tench. I lifted the rod and felt that telling thumping from a tench on the other end. This fish kited right and on the long line it went a fair ways. I had to keep the rod low and parallel to the lakes surface to avoid the line catching in the willow branches. Slowly the tench came back out in front of me and soon joined the other one in the net.
So with 2 fish in the net I unhooked the last fish and returned them back to the lake. The scales had them down as similar sized fish. A beautiful olive colour tench went 7lbs 8oz.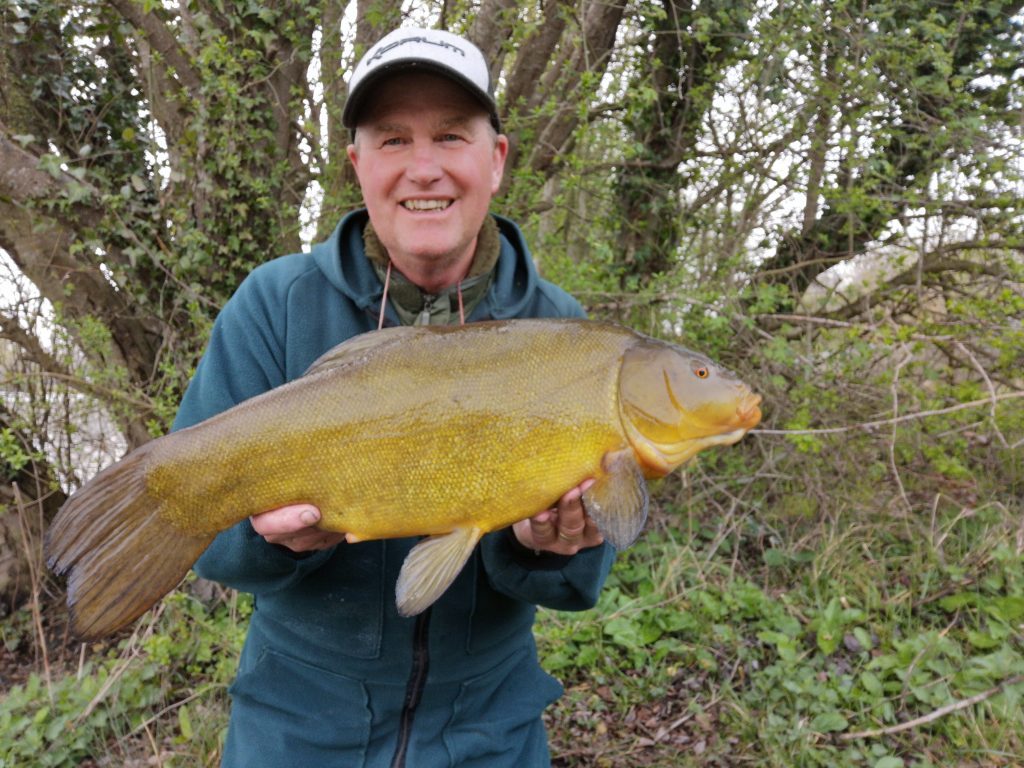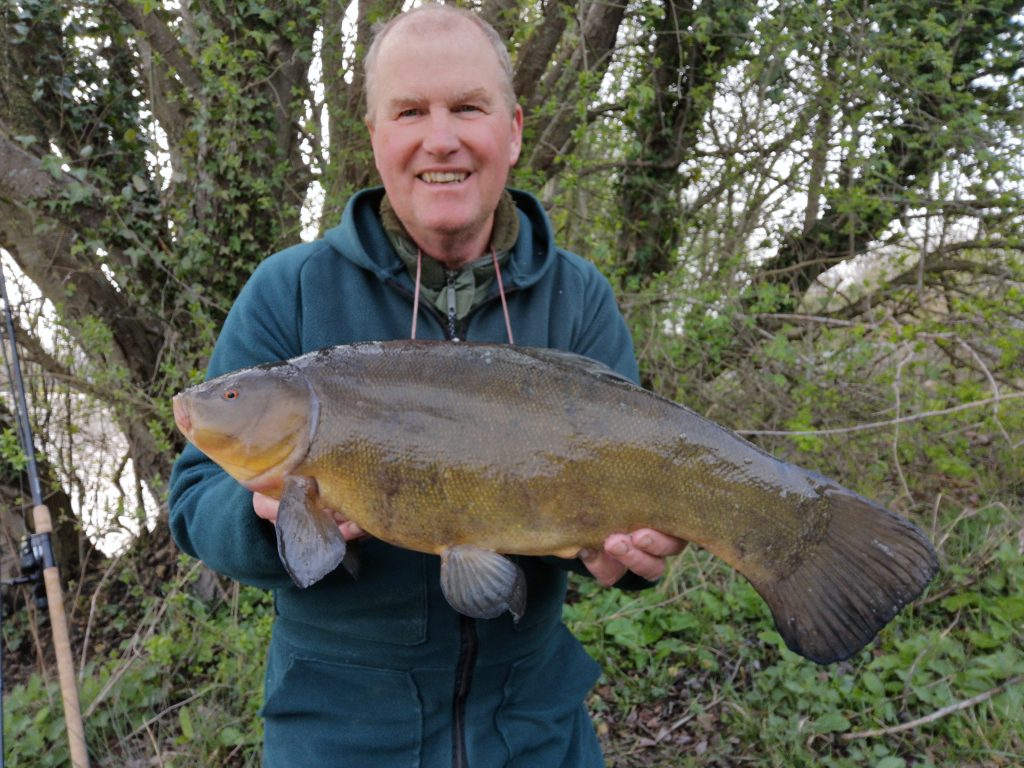 Wow what a start. I sorted out the rods and reset the 80 yds marker and recast out. I put in a couple more spomb of feed. A mixture of dead maggots, hemp casters and chopped worm.
So with that action complete I was able to get the bivvy and the rest of the equipment set up.
After about an hour the worm rod registered a bite with line being taken from the spool. Again it was the worm rod that had an angry tench on the other end. This one fought hard and I suspected it was going to be a male tench and sure enough it was a smaller one of 5lbs 4oz.
Indications were that the tench were in deeper water, and were feed well. Having said that I didn't have another bite as the evening approached. I don't leave the rods out over the hrs of darkness as the tench rarely feed at this time and there is a risk of tempting a carp. Now I'm not happy catching these big brown monsters. A good nights sleep and up and early is my preference.
The dawn chorus woke me on cue. Out went some more spomb mix followed by a worm rod and the maggots feeder rods. The morning was cold the cloud and rain had been replaced by clear skys.
Straight away the worm rod indicated a bite and I played a small small tench of about 3lbs. Then I had two more around the 4-5lb mark. I was thinking that this last day I would fill my boots.
WRONG!
I put in some more spomb mix to keep then feeding.
Once the sun came up onto the water that was it. From 8am to 3pm I couldn't tempt any action at all. Sure the bobbins did move but only from the attentions of diving birds.
The session had tuned out to be OK with one of the largest tench in the lake being landed and will be much larger as spring moves on. Although it was caught in the shallower part of the lake it indicated that most of them are still in much deeper water. As the water warms up they will migrate into the shallower water.
Can't wait for the next session to come along.