Early April feels more like mid January. And the one that got away!
Having just returned from a week in Dorset walking the Jurassic coast line and looking at several historic houses there is little to report on the fishing front. The previous week I took Trevor and his lad Archie fishing on a gravel pit the weather was very cold with a bitter east wind gusting. It was supposed to be a taster session as they were about to join.
I thought we should throw the maggots in the lake and go home save wasting time. The lake was gin clear and cold. Nothing not a touch came our way in the morning. Now normally you can get a few perch but they were just not feeding.
We did have a look at the nearby trout lake and I managed to fluke out a small rainbow that I allowed Archie to land. He then had a go at casting a fly. He did really well after a while and he looks like he will be good at fluff chucking. Trevor and I sat in the sun out from the cold wind and it was very pleasant. In the end Archie handed me the rod to rest his arms and I hooked one more trout only for Archie to lose it. So that was about it for the day. We agreed that we would rendezvous later when it warms up.
There is a really good website that I found showing the position of the gulf stream. This is the photo when it was cold and this is it one week later when it had warmed up.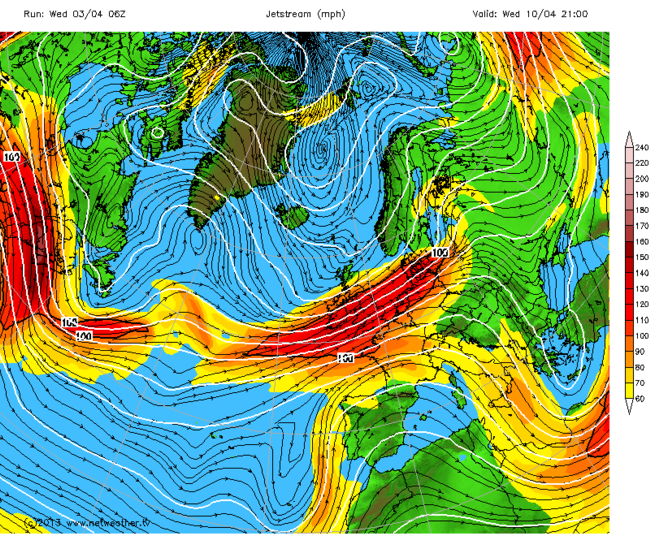 so there you have it a great little bit of info. The website is as follows.http://www.netweather.tv/index.cgi?action=jetstream%3Bsess%3D . So this will be helping me plan my trips for the future.
I have also been looking at a fledgling river trust called BART, Bristol Avon River Trust. I know a few of the jobs they have been completing on the upper end of the river. Some very good work indeed. They are looking for help in terms of volunteer's to help improve the river. So what do they do.
The Bristol Avon Rivers Trust exists to help you protect and improve your river in many ways.
Improving riverside and in-channel habitat to increase diversity and numbers of fish, flora and wildlife.
Bringing people together who have a common interest in a healthy functioning river system.
Identifying funding sources and matching them to known local needs.
Collaborating in or managing river based improvement projects.
Providing education about the ecosystem approach to protecting and improving our rivers.
Have a look at the website.  http://www.bristolavonriverstrust.org/
With the warmer weather 16c today the tench will have started to feed. So I have just purchased the ticket for my new venue and will be starting on there this week. To say I'm quite excited would be an under statement. The venue is exposed to the elements and to help with protection from the wind and sun I've just bought a new bivvy, it's a Nash Double top mark 3.
The peek at the front does give plenty of protection from the sun and ingress of rain. It's got a fitted inner tent which will help keep the insect life out.
So that's about it. They say that nature is about 5 weeks behind the norm this year however it has a way of catching up I'm sure. I saw the first swallow of the year in the garden yesterday 14th April. Now I always record this event. The earliest has been the 1st April and the latest 23rd April.