A guiding day with Dennis on the Wye
Dennis had contacting me asking if I could help him catch a barbel. Now coming from Devon there are very few barbel down his way. Our window of opportunity was short as I don't normally guide on the river Wye after October.
We had so much rain over the previous couple of weeks the river had been up 5m and had been falling of the previous few days. When we arrive the colour was dropping out and river height about 1m above normal level.
We chose a swim where we had a good slack area in front of us. We would be casting just out of the flow where we thought the barbel would be. The river bank was so slippery and dangerous it was essential that we took a rope and stake to help us move up and down the bank. Without this piece of equipment it wouldn't have been possible to fish. One slip and you are in 8 ft of water and no way of getting out.
Our tackle was the normal 13ft Korum 2.5t/c rods with 12lb line a feeder with pellets as bait. We were going to use 2 rods on a rod pod. The reels were put into free spool so that we wouldn't lose any rods as the reels would give line first.
Dennis didn't have to wait long for his very first barbel. On the first cast and within 10 mins the rod buckled over and line came off the reel. Dennis lifted into the fish and played it to the waiting net. It wasn't a monster but a lovely looking fish with a perfect mouth where no hook marks were evident.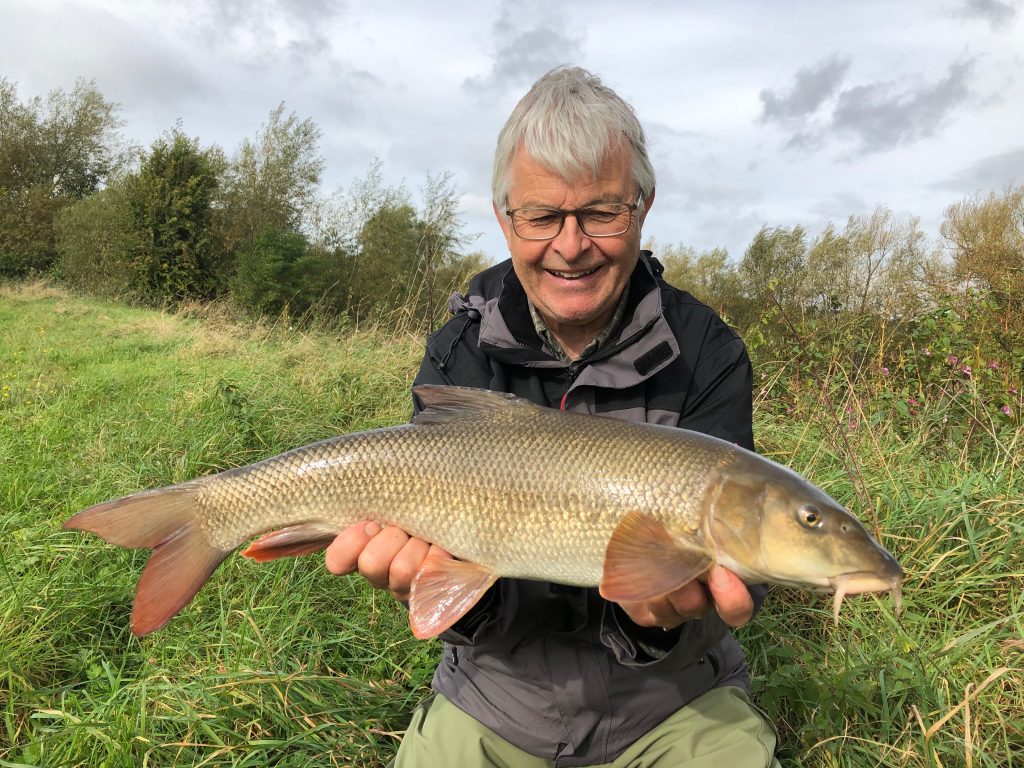 Well it's always great to catch the first fish of the session. Dennis does look pleased with his fish. We continued to fish the swim without much happening for a couple of hours. Then just as we were about t move we caught another barbel about the same size. Then it went quiet and I thought a move might be on the cards.
We moved downstream by about 50m to a tight swim but one where it's the last deeper water for about 500m. Again the rope was needed to lower ourselves into the swim. There was a huge tree root under our feet in the swim. We couldn't see it today but I knew it was there from previous visits.
Dennis didn't have long to wait again. The rod tip rattled and line was being pulled off the spool. Again he lifted into the fish and played it well to the net. We took a photo and returned the barbel ensuring the barbel recovered each time.
Dennis caught a couple more barbel and was a happy man. I had to assure him that it was turning into a good day. We lost a couple of fish to hook pulls and one took the bait so quickly it cut the line on the rock before Dennis lifted the rod. Dennis also had some smaller chub plus this one which was over 3lbs,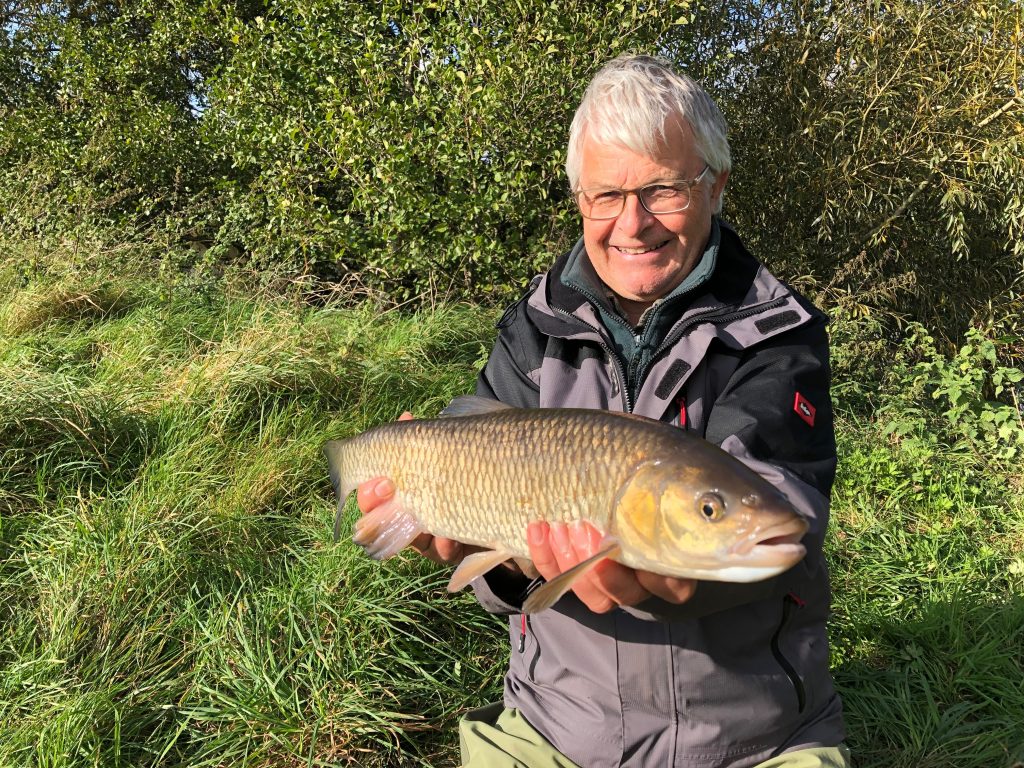 Dennis was soon on number 6 barbel and I suggested we take a photo with the lowering sun illuminating the tails of a barbel. I think it worked pretty well.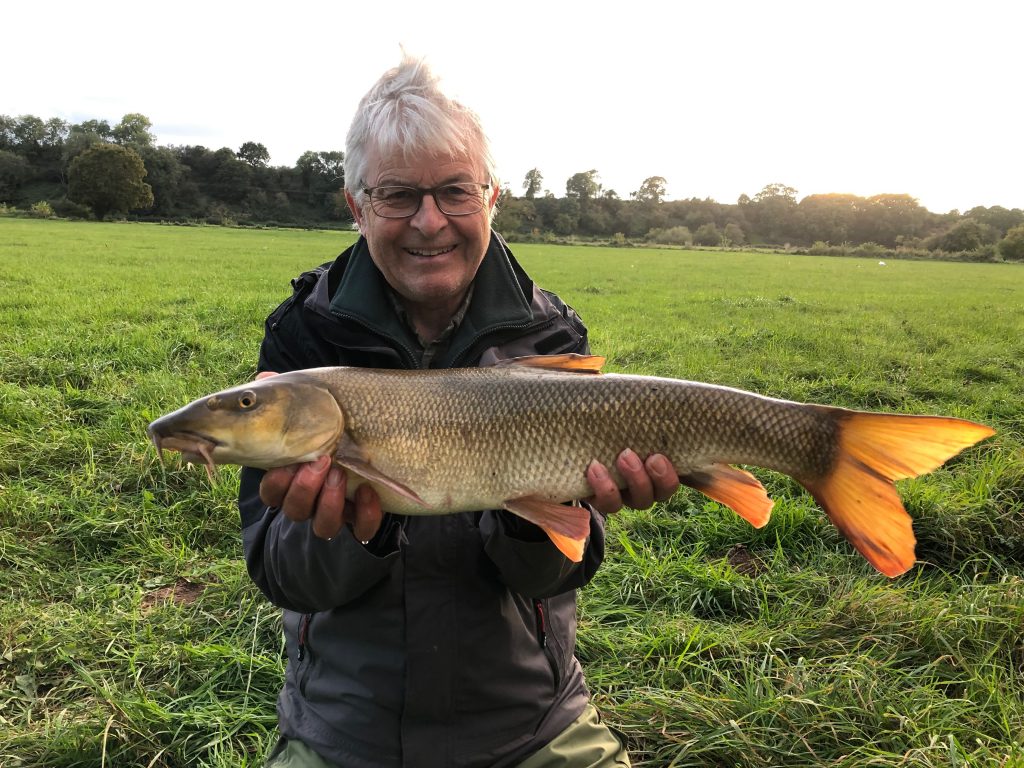 So with number 6 barbel the afternoon moved on towards evening. We were hoping for a 7lber if possible. Just as we were packing away the equipment a call from Dennis said I'm in again. The barbel fought well. However it wasn't the 7lber but the 7th barbel of the day.
I think Dennis will visit the Wye again. Lets hope he is as lucky as he was on this occasion. Happy days.