2 more big chub and another 6lber
July had just arrived and there were some more serious chub to be caught. Some fish had just spawned by the look of their condition around the vent and underbelly. I had thought about using maggots as bait as here didn't seem to be too many minnows around.
So I returned to a swim where I hoped there would be few minnows and some big chub. I was going to scale down to 6lb main line and 5lb fluro as the short hooklink and a size 18 hook. My first effort using the swimfeeder resulted in dace after dace after dace. Not that I mind these beautiful fish but it's not chub. Also they were spooking the chub when being caught. So I started to feed some big squid dumbbells that Darren at the Hook Bait Company had rolled for me. I've had a good few chub on these baits.
Bingo after introducing some of these the chub came upstream and started to feed on them. I was noticing though that they were feeding in mid river near a weed bed. This weed bed was ideal to hide the main line in and also to move the line from the main current where continuous debris was being picked up on the line. It worked well as pretty quickly I had a big chub of 5lbs 15oz in the net. A great start to the day.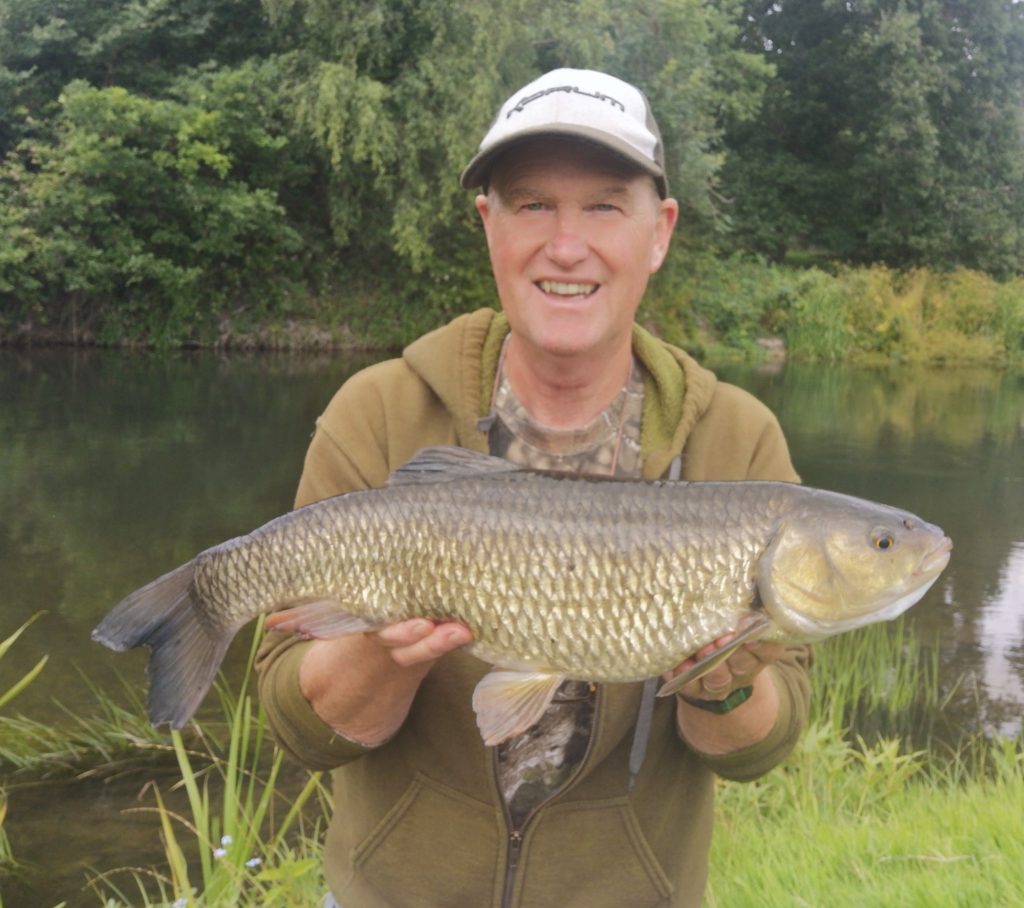 The wind was really strong and the ripple on the river surface made for difficult observations. I caught one more sub 4lber before thinking about moving on. I was reluctant to move too early as there was someone in the swim where I wanted to fish with the feeder. However by 1pm I was on my way. Sure enough the chap was there and just packing up. Luckily I had not taken my tackle around there because that's not etiquette. So I wandered around looking at other swims and it was about 40 minutes after he left the swim that I moved in.
My end tackle was going to be a 50g black cap feeder and 4.12 reflo hooklink and a size 16 hook put through a plastic maggot. The reason to used plastic was to put the population of minnows off scoffing the maggots on the hook. It was put on similar to a magliner. I could see some chub swimming around and to get them looking for maggots I catapulted out some free ones. Boy oh boy did they want maggots. I only had a bout 3 pints of maggots. So I bait droppered about 8 lots of maggots to get them looking on the river bed. They would rush up each time they could hear the plop of the bait dropper or the swimfeeder. There were about 10 chub rushing around scoffing all of those maggots.
It was looking good. I know within the first 30 minutes I had 2 chub which is good going. The largest one was 5lbs 8oz? To get them really feeding I had to put a live maggot on the bend of the hook.
Every now and again I would hook a small dace or chublet but as a whole it was just chub. I was casting out about once every 7 minutes or so and was getting through the maggots. In total I caught 5 chub from the swim with the largest going 6lbs 6oz and a chunk of a chub.
6lbs 6oz chub
Eventually I ran out of maggots and I left the river with yet another 6lb chub and very blustery conditiond.
Happy days