19th and 20th July H.Avon
My partner in crime Andy (you should have been here yesterday) and I were down on the Avon for a couple of days. The weather had gotten even hotter if that was possible. Now I'm old enough in the tooth to remember the summer of 1976 which was one of the hottest and driest on record and this summer was getting close to being similar.
Again I moved around quite a lot managing 15000 steps over both of the days. The first had me fishing a new swim and one where I had seen a few barbel with one very big fish. There were a couple of smaller ones too. There were also about 12 chub feeding on the pellets I had introduced. This time I tried a different approach to the short hooklink. I hair rigged a couple of pellets onto a 6ft length of fluorocarbon with a 3oz running lead.
I think this worked as I had 6 chub from the swim but no barbel. They were spooky fish. The pick of the bunch was a 5lbs 10oz chub that was very fat and short. I saw every fish take the bait however I saw about 4 chub eject the hook from their mouths without the rod top moving. Sight fishing is such a wonderful experience.
Again Andy was there to see the biggest fish and the final one of the day. He had some chub and was fishing for some barbel. It was about 7pm and we were both knackered as we need to be up at 5am for the drive down to the Avon. So we went back to our accommodation. First thing was a can Thatchers Gold. Then disaster the microwave meals we were to have needed to be defrosted. Never mind plan "B" the fish and chip shop came into play. After pie and chips and a couple more cans of cider it was time for bed.
The nights are so hot and with little wind it's difficult to sleep having said that 15000 steps does take it's toll in the hot conditions.
Again in the morning I walked and fished a few swims with not much to show for my efforts. I decided to try a swim I fished before. This time there were 6 barbel and I had them feeding in an area 1ft square well two of them. The rod pulled around a few times but unbelievably there wasn't a hookup. I just don't understand how that happens. There were also about 5 chub swimming in and out of the swim picking up the pellets. The observations were made easier as I was stood back under some willow branches and they couldn't see me. So after being ignored by the barbel I was more than fortunate that a good size chub picked up the bait and made a dash downstream. It was the pick of the shoal too. The fight was not remarkable but it did give a reasonable account of itself. I steered the chub downstream to the landing net and in she went. It looked long enormously long.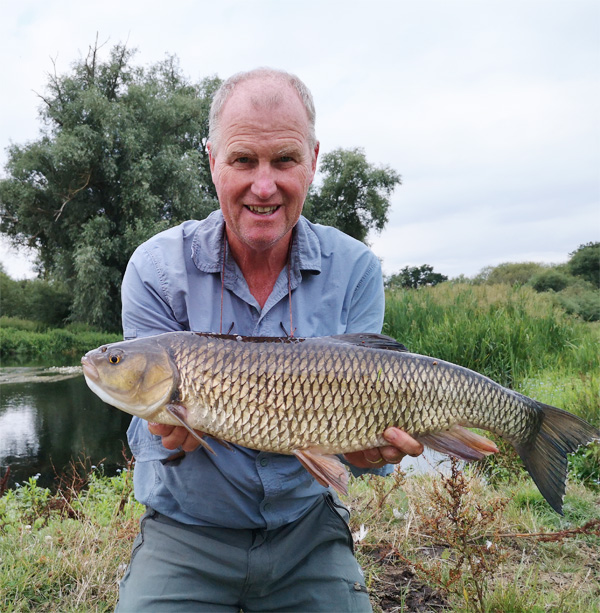 I rested the chub while I got the scale camera ready. Out she came and at 23 inches long and 6lbs 3oz it was a beauty. It would be so much larger in the winter months for sure. So a quick photo and that was it. Needless to say the barbel didn't make an appearance after the commotion. I did see a mahoosive chub a little later just upstream and thought it was a barbel at first. That one is noted down.
So that was 3 casts for the morning so you can see I'm reasonably selective where I fish.
I fished a couple more swims without any joy for the day. So once again I was very lucky for a one fish wonder.
Andy had his first double figure barbel for the season and at 10lbs 2oz it was a lovely fish.
Again I was totally knackered from the exertions of the walking and prepared to leave at 6pm.
So very very lucky.