WOW pb perch 4lbs 2oz
Andy (you should have been here yesterday) Cowley and I agreed to fish the pond again. All of the perch had spawned and we hoped they might be feeding up.
Andy was going to be late for day as he has a few things on his plate. I arrived at 6am to chilly cloudy morning. The wind was from the northeast however it was a warm one with temperatures to reach 21c.
I was going to my usual maggot and worm approach. I tend to make the rods up at home and take them ready to go. Sometimes it's great to cast straight out. I thought things would be slow with the cloud clearing and the sun breaking through. The action was none existent even though I was casting out every 45 mins. It was so slow I had eaten 50% of my food by 10am.
Andy turned up at about 11am and had a walk around. He decided to fish the swim next to mine. I think it was just for my skills in making coffee and tea and that he would have an ample supply.
He must have bought me some good luck as I started to get some tiny lifts. I'm never sure if it's line bits or perch picking up the bait and feeling resistance. However I'm using the lightest of bobbins.
Then one bobbin rose and I lifted into a perch, only a small one but great to see.
While he was still putting everything together I had a slow take which saw me lift into a fish. It fought really well and again as it came in close the rod tip was nodding furiously as the perch shook it's head. Both of us thought it was a good fish as we glimpsed it. Andy did the honors with the net and there lay a huge perch. We both thought it would go a high 3lber. Swiftly unhooking it and resting it in the net whilst I got the weighing and photo kit sorted.
Out she came in all her glory. Weighing the sling I said it's normall is 7oz which it was. On the scales she and sling went 4lbs 9oz bingo a 4lb 2oz perch a pb for me and it's the biggest we had ever seen.
To say I was happy would have been seriously underestimated of how I felt. Ecstatic  was nearer the mark.
Some great photo's followed by returning her back to the water.
I was buzzing.
On recasting I had another of 2lbs 10oz which again looked a stunner.
I always try and cast out ASAP as they are shoal fish and you just never know.
Time drifted by and so did the perch. Then out of the blue one of my bobbins rose again and sure enough I was playing a good perch. The session was panning out to be a "red letter day"
Andy did the netting again.
3lbs 2oz of stunning perch again.
Andy didn't have a touch so I suggested he join me in the swim and cast out to the area I was fishing. He had been having a tough time fishing on the pond.
So he cast out his first rod and was walking back to his swim for the other rod when I suggested he returned to strike into a fish. Sure enough it was perch on the other end. Slowly slowly he played the perch and I netted it. It wasn't a 3lber but one of 2lbs 9oz or so. At least there was no blanking for him. It was late afternoon now and the swim looked like we were knitting with the rods. We tried more coffee and sure enough he had a take that looked like a good perch. I'm not sure who netted this fish but it weighed 3lbs 2oz.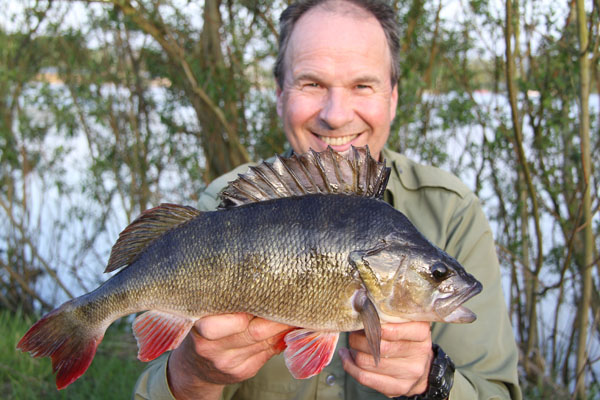 So Andy was really pleased with this great result. Not his biggest from the pool however a welcomed sight. I was so pleased for him.
I needed to leave at 8pm so wished him farewell and good luck.
What a flipping great day with, and was pleased Andy joined in the act too.
"Happy days"