Perch and chub fishing and trouble with an otter
Well after a difficult time on the H.Avon on my last visit mainly through minnows decimating all the maggots that I could throw at them.
Andy (you should have been here yesterday) Cowley and I decided on a perch trip to a commercial. We would ask mutual friend Ross along too.
We arrived at first light to find a crisp frost on the ground, which should keep the tench and carp a little quiet. We met Dave who had fished the previous week and caught a couple of 2lber. He set off first to get to his swim while we waited for Andy to arrive.
The weather was fine but turning rainy later. I'm not going to say too much as other than 2 bream and a carp for me and one bream for Andy, and Ross coming 3rd with a blank. Dave didn't fair much better with 3 small perch all under 2lbs so not the best of starts for the perch this season.
The following day Andy and I were to fish the river Thames for chub. I couldn't arrive until later in the morning however Andy was there crack of sparrows. By the time I arrived at 11am he had caught 2 chub with one going 4lbs 8oz so no blanking for him. We had a quick chat and he had baited the swims in that field with cheese paste so they were all primed. We thought we would leap frog each other fishing each swim in turn for 15 mins or so then move on. I fished one and didn't have a touch. The frost was still white on the grass where the sun didn't shine all day.
I thought I was pushing in on his field and baiting so I said I would move up to the next field. The swim looked spot on with hawthorn lining the far bank giving plenty of cover for the chub. I was using a very light ledger of 2 swan shot casting upstream and allowing a huge bow in the line. This allows you to move the paste slowly down under the bushes. Almost immediately the rod top nodded back and the line was moving back downstream a sure sign of a take. I struck and an angry chub pulled back really hard making for the snags. I wound in all the slack line and lent into the fish which fought back. I could see it was a good size chub as it came up in the water wagging that tail trying to find sanctuary. I thought here we go it might be a good chub. Once the chub was in mid river you can relax and enjoy the fight from the fish as there are no snags and they are quickly subdued. In the net it was deep but not too long. It looked a 5lber and sure enough it was 5lbs 2oz. That's a 5lber on each visit to the river.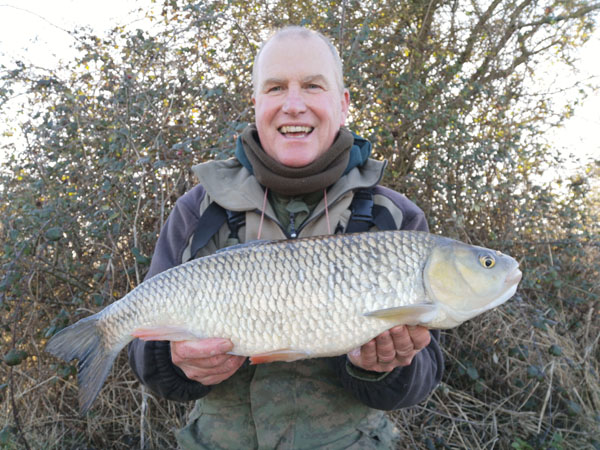 I phoned Andy to say what I had caught and he told me he had prebaited the area. Sorry Andy! I stayed and fished a little more hoping there might be one more chub present and sure enough I was upstream fishing again. This time the rod top pulled over quite savagely and then went slack, again I whipped the rod back over the shoulder and it was met with resistance of a chub on the other end. I had to wind like hell to recover the slack line hoping that the chub wouldn't get into the snags. I some had another strong fighting chub in mid stream. It looked a smaller one and sure enough 3lbs 15oz.
The sun was stronger now and it warmed a little well only just. I fished a few more swims and missed 3 more bites that were from very shy biting chub. I phoned Andy to see how things were going and he had moved right to the top of the stretch. Time was now 4pm and I decided to try a swim at the bottom of the fishery, it's where I had caught the 5lbs 14oz chub last time. The sun was getting lower in the sky and frost was returning as the sun set at 4.45pm
I cast out and inched the bait into position under a raft of willow branches. It looked a classic chub swim with the river current under you own bank bringing the food to the waiting chub.
I missed the first bite whilst on the phone to Andy. He had caught a couple more chub so a good day for him. Then an otter came downstream on the opposite bank causing havoc with the swans and other wild fowl. They were really upset. It dived under the far side reeds and I could see the line of bubbles going down the middle of the river as it moved off downstream.
I recast and had another bite which resulted in a 3lb chub. I was hoping there could be another. So I recast once more.
The sun had set a good while ago and the light was fading fast.
Then I saw another otter come downstream again on the far bank. It dived under the decaying reeds as per the other one.
The rod top nodded and I hooked a chub that went under the nearside willow branches then it shot out into mid stream (very unusual) then back into the willows again but this time almost a dead weight. Then up shot an otters head with the chub in it's mouth about 10m away. I yelled and shouted however it wouldn't let go. It decided to swim downstream and the rod tip belted around and the line snapped. I was shocked at how brazen the otter was. I phoned Andy  to tell my incredible story. 
And that was it for the day, what a final few minutes.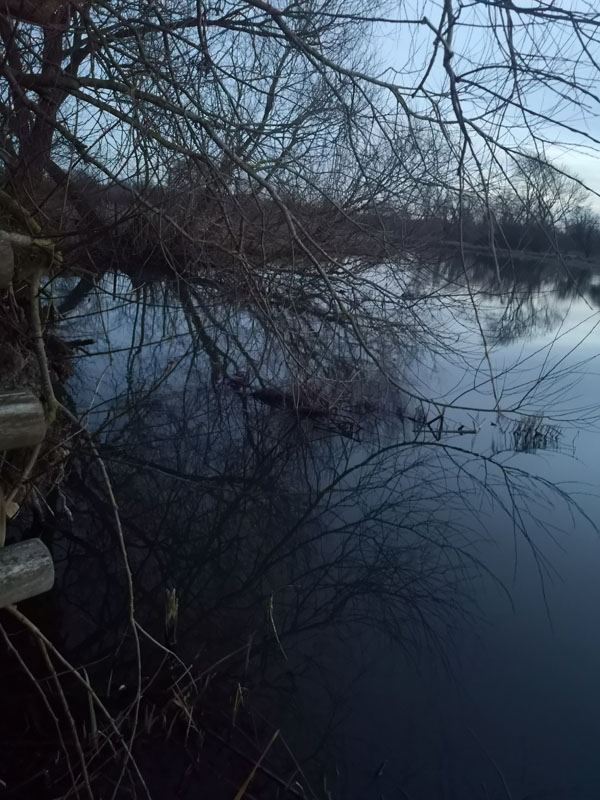 I shall never forget this episode of my angling career. I'm sure and hope it will never happen again. Got to say I'm a bit disillusioned with this stretch now. They will munch their way through the fish in this particular stretch for sure.