Next 2 visits to the H.Avon and a couple of 6lb chub
The weather had been dry and bright for a fair time but over the last few days it had rained and we had about 2 inches. The pond I'm building is almost full now.
Andy had arranged to go catfish fishing while I had thought it would be a good time to head to another swim on the H. Avon. The aim was to walk and look at as many swims as I could to orientate myself on the river as the continual winter floods had altered the characteristics of some of the swim. Many swims looked devoid of chub however the visibility was still not good.
By about mid morning I had fished a swim that produces big chub. I lost one fish in there where the line broke and was unsure whether it was a barbel. I didn't get a second chance in there. So I started to pack up and move upstream. There was another angler who was slightly behind me but across the field. As soon as he saw me his pace quickened almost to a waddle. Now I'm not too worried about all this swim chasing lark so let him get in front of me. As it was he didn't want the swim I wanted to fish and he dashed by it.
I slowly made my way up and saw about 6 chub mid stream in shallow water. Normally on the far side there are a few barbel in amongst the trees that come out on the shallows after you introduce some pellets but they were not there. I put out a good few pellets into the head of the slightly deeper glide. After a few minutes the chub came up onto the pellets feeding with gay abandonment. There were a couple of fairly good size chub but no 6lbers. I waited for 15 minutes or so before casting in with 2 pellets super glued to the shank of the hook. They came up and started to feed again and I had a couple of line bites but no hookups. Then a huge clump of weed came down and took me out with everything being dragged downstream. I'm on 5oz leads too. So I rebaited and cast out once more. This spooks the chub for a while however they soon roar back up onto the bait. I guess it took only about 10 minutes to hook one. It wasn't very large but still over 4lbs. So no blanking.
I then walked to another stretch where I saw charlie catch a 5lb chub followed by a 6lber. He was over the moon with the results. He had a 6lbs 8oz chub earlier in the week. I had some chub feeding in some willow branches downstream of him but they wouldn't play ball. There was another swim I wanted to try however Pete was in there and he caught 9 chub so he told me later.
So with the afternoon approaching I headed back to my original swim to try and see if I could catch a chub or two. Out went some pellets followed my my hookbait and some free offerings in a pva mesh bag. It didn't take long before the rod pulled over and I was playing a 4lb chub to the waiting net downstream. So they were in the swim then. It was turning into a pleasant day.
Things were about to get even better. I had a big bite with the rod almost coming out of the rest. The fight was strong and the fish tried to gain escape by getting into the willows. However with the strong tackle I'm using it was possible to coax it away and downstream into open water after negotiating a couple of weed beds. It look a good large chub as it came over the net. On the scales it went 6lbs 3oz.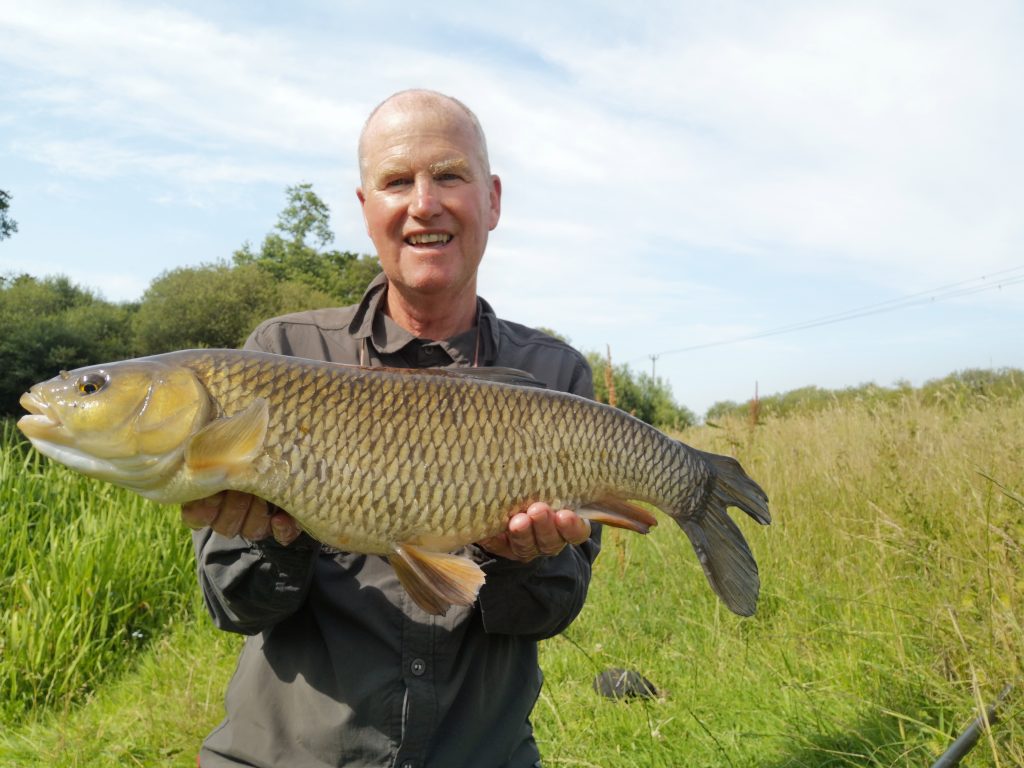 I thought I had seen it before and as it's got a deformed tail I checked my records.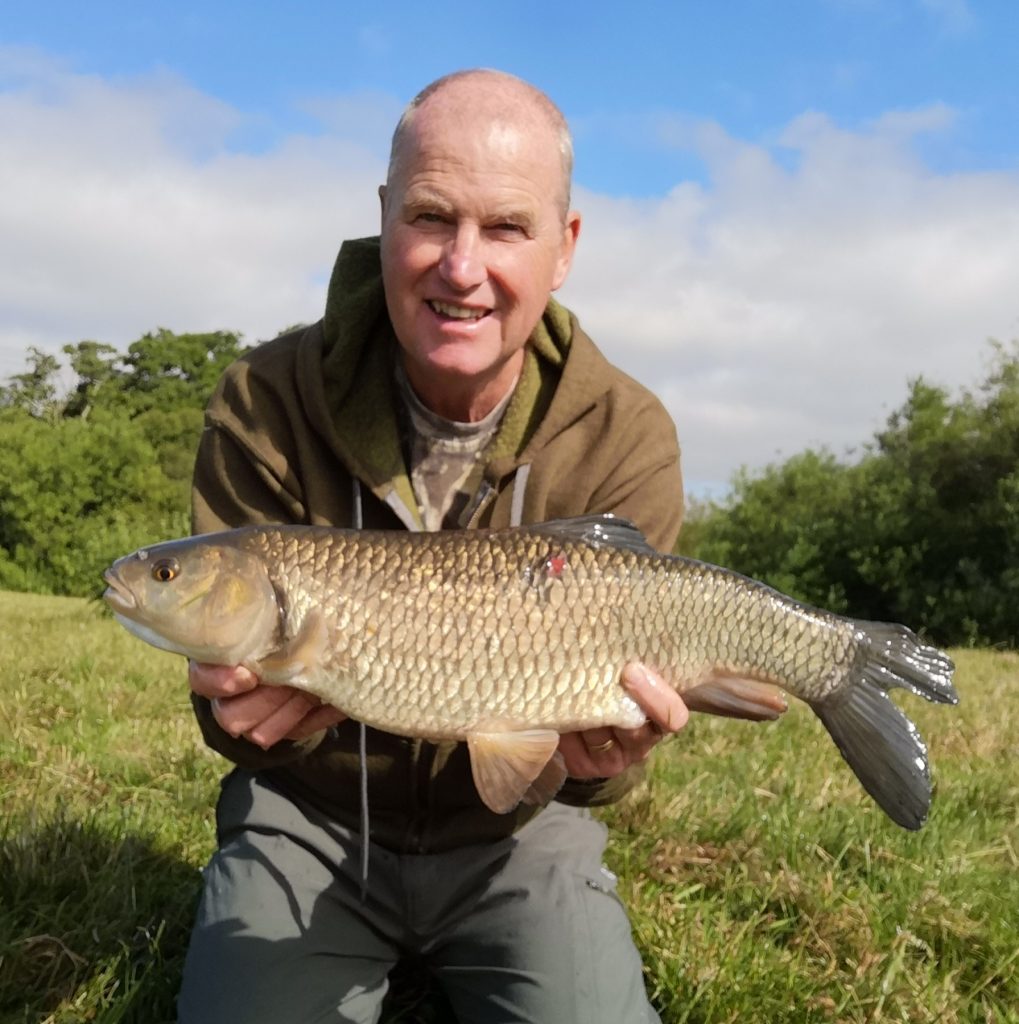 So my first 6lber of the year and pretty pleased to see the chub has been growing well. I think I caught it again in 2018 at 5lbs 10oz or something like that.
I had one more fish prior to packing up and heading home at about 7pm. That's the 4th chub of the day and 16 in 4 trips.
The next days fishing was going to be on the 26th June. I thought I would try the swim once more to see if any of the 7lbers were resident. The weather was so sunny when I arrived and at 7am in the morning it was 19c. This was mainly from the 32c of the previous day. Again Andy decided to do some surface fishing for carp. I arrived to see a few chub present and as some as I put some pellets in they were out on the feed. The thing with this swim is that once you hook a fish they tend to sulk and not come out to feed straight away. I was going to use my normal pellets plus the Big Squid dumbbells that Darren had made up for me. I started with pellet first. It was about an hour before I caught my first fish it was 5lbs 1oz I think certainly just over 5lbs. A great was to start the day. The sun was so strong it stung the my back as it shone through. Good job I had that wide brim hat to protect my neck and face. I think I had another fish a little while later which was about 4lbs. The rig I was using was a 6ft fluorocarbon hooklink and the same size 12 hook. Casting the rig is really difficult however I perfected an under lob that see's the lead go out first followed by the pva mesh bag and hook. It look weird but it's effective and I can place it close to the willows. The next fish I caught was a lovely 5lbs 12oz chub.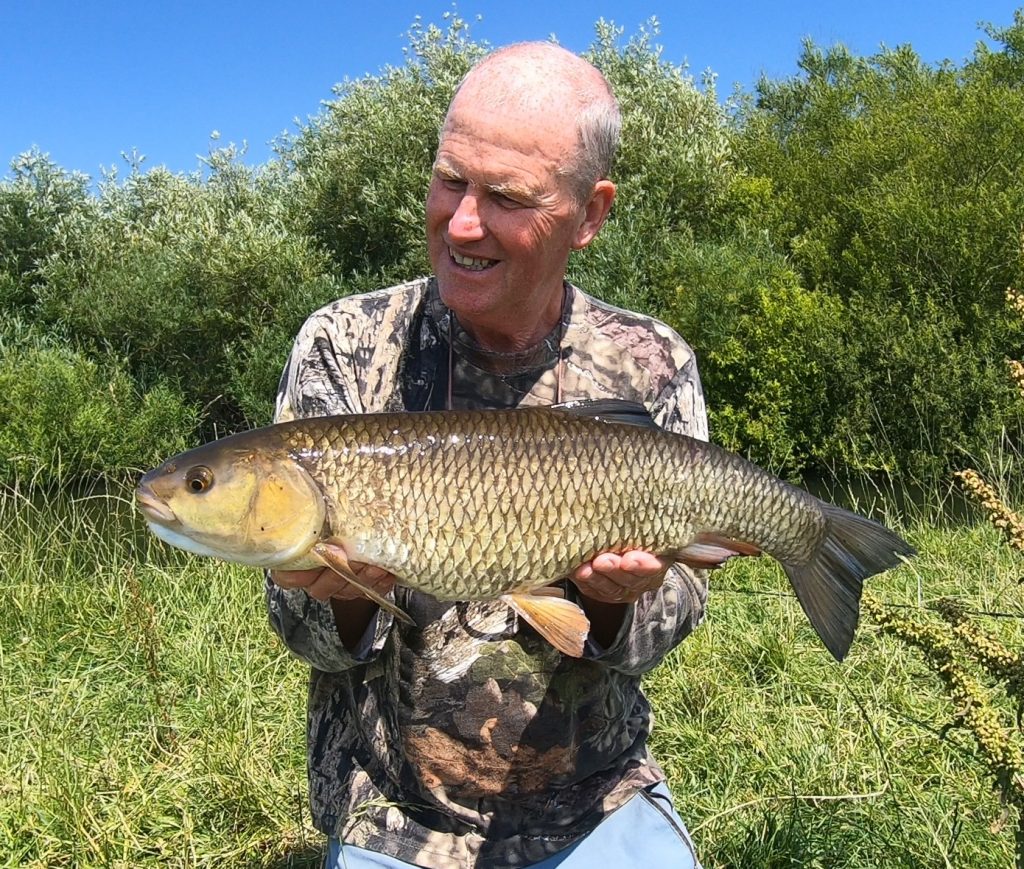 Who couldn't be happier with a nice chub like that. The weather was changing a few clouds started to come over and the temperature began to drop. I had another great bit this time on the Big squid dumbbell and this fish pulled back hard in the flow attempting to gain it's freedom in the willows opposite. Again with the possibility of hooking a barbel the 10lb main line was not a serious match for the chub. It looked another good fish and on the scales it went 6lbs 1oz.
It looked a marvellous chub and in great condition too. So that's the second 6lber of the season. The cloud level increased and by 5pm it was getting cool at 18c. I hadn't taken a jacket and by 6pm I had almost had enough. In all I had 6 chub from the swim that day which is good going and so 4 visits and 22 chub is a cracking start to the season.
The chub have spawned early this year compared to previous ones and so are going to be in wonderful condition in September and October this year and we might see some monsters getting caught.