Great start on the H.Avon 6lb 7oz chub
It's been a bit of a quiet week guiding so it's given me an opportunity to cut the grass and tidy up around the lake I look after.
I was going to fish it for carp using floaters, however something told me to fish the river. So after I had done all the chores and check tickets etc it was time to pack some gear in the car and head to the upper reaches of the Bristol Avon.
I was going to fish for perch and doing a spot of drop shot fishing. As I drove towards the river there was plenty of static on the radio from some storms in the area.
I pulled up on the bridge over the river to find that rain had started to fall and with the lightening flashing overhead I stayed in the car for a while. Did it ever rain!
The thunder drifted away however the rain stayed. I had a water proof coat but no trousers so soon after walking through the vegetation I was soaked through and not enjoying it at all.
Looking at the sky there appeared to be little rain down my way. After two hours of none stop rain I reloaded the car and headed back home. What rain Mrs.P said as everything was dry.
Soon I was walking around the lake feeding the carp on the surface. The carp were coming up for the floaters and bingo one made a mistake and I was playing a low double to the net. Great fun on light gear. I had a couple more in a couple of hours and no rain made it a very enjoyable evening.
The next session was to be a exploration session on the H.Avon as I hadn't taken a real look around the stretch that I was going to fish this year. I arrived at about 2pm and spent 2 hours walking and looking. I spotted a fair number of barbel and chub however there is still an algae bloom so you can't see in deeper water. There is little weed growth at the moment so many of the chub are hold up under bushes and trees along the river bank.
I had bought some casters to float fish for chub and some maggots to use in a feeder. I've been developing a feeder rig using the Korum grub feeder. I had used it last year just before the floods and caught a few chub to just over 6lbs. So my confidence in the rig was high.
I also had the normal bucket of hemp. In the summer I don't go near a river without this stuff. Whilst walking around in every swim I put the stuff the chub were soon feeding on it. Even on clear gravel where there were no chub they soon appeared and start to stuff themselves.
The swim where I was hoping to get my 7lb H.Avon chub still has the fallen tree in it. This is a pain as it's one of the best swims for trotting for chub and there are some huge ones in there.
Soon I had seen enough and the walking in the 25c heat was taking it's toll. I stopped at a swim where I had seen one or two good size chub drifting in the branches of some willows. I quickly put out about 1 pint of hemp and half of red maggots. This did the trick and soon the swim was alive with feeding chub. You have got to see it to believe that this method works so well.
I'm not going to reveal the rig just yet as I want to use it a little more. Other than it's a Korum grub feeder and size 18 hook to 4lb line and a very short hook link that expands into a much larger one once a fish is hooked.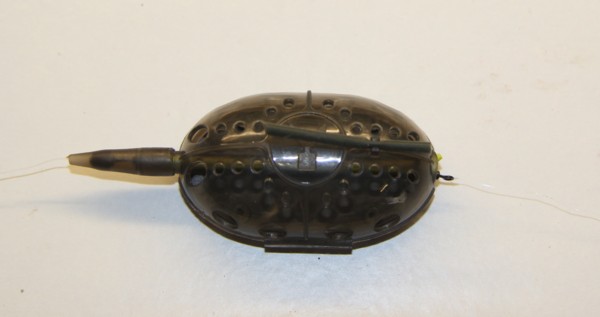 I didn't want to cast in straight away so took my time tackling up. I was using Korum's xpert main  line of 7lbs. The rod is an old Free Spirt 1.5 t/c rod with a quiver tip section.
I fed the swim another time and within a few seconds of casting in the bait dropper the chub were back again munching on the bait.
There looked to be one or two good chub of 6lbs plus.
So after about an hour I cast in. I didn't need to wait long as I had a huge drop back bite and the line went slack as the chub moved towards me. I lifted into the fish and sure enough I soon had it over my side of the river. Now the main flow is on my side of the river and I need to net the chub further downstream so that I don't get a hook pull in the fast current.
This was not one of the larger fish but still at just over 4lbs still a nice fish. Out went some more maggots and hemp and the chub soon were feeding with gay abandon.
A recast was made and well I never the chub took the maggot on the drop and I was playing another 4lb plus chub to the net.
I didn't put anymore bait in but recast. I was getting one or two plucks and pulls plus fish brushing the line with their tails. There were plenty feeding.
Then I had a bite that took the rod into a good bend however the hook pulled which was disappointing. I then hooked another chub which felt much larger than the others. I caught a glimpse of it as I walked downstream and it looked every bit a 6lber. In the net she looked huge.
On the scales it read 6lbs 7oz and a great chub for the summer months. It would certainly be larger in the winter.
I then fed the swim again but this time I went for a walk to rest the swim. After about 20 mins I was back and so were the chub (they didn't go I think).
Casting out again this time I didn't have to wait long as another chub munched on my two red maggots. The fight was again run out in mid river where normally there is plenty of weed but not this year.
This chub was smaller but at 5lbs 9oz still a great fish.
Still more hemp and maggots went into the swim and the chub returned to mop them up. I caught a small dace and a trout. I was having little grief from the minnows which was a great surprise. Perhaps the escape trout from the fish farm had eaten quite a few.
I caught one more chub of over 4lbs before packing up at about 8pm fully satisfied with the result.
The two hours walking has made me think about a couple of other swims where I saw some huge chub too.
The chub seemed to be excellent condition for this time of year. Lets hope that 7lber is just around the corner.