A week of perch fishing and almost a 4lber.
Earlier in the month I had decided to duck out of fishing Willow for the big roach. The lake levels had been up making it difficult fishing some of the more productive swims. To be fair it would have been difficult in beating my pb of 3lbs 13oz. And paying nearly £300 for a months fishing didn't help the situation.
I have been looking for something to fill the time between the river close season and the start of tench fishing, that for me starts in April.
Perch! That's the answer!
Having not seriously fished for perch before it's been a steep learning curve for me. Luckily I have some good friends who have helped me in sorting out locations, methods and baits.
I read as much as possible in books and on the web that pointed me in the right direction. My apprenticeship started not too badly in January when I caught a few perch up to 2lbs 11oz. I had set a target of 3lbs as a pb thinking it large enough. The lake I was fishing had produced them to 4lbs plus however there were a good few of 3lbs plus but not to my rod.
The river conditions improved as we came to Feb through to March, and float fishing for chub became viable on the rivers again. So my efforts turned to catching a few big chub. The largest went 6lbs 6oz which I think was about the 4th 6lb plus fish of the season. Compare this to about 12 or so the previous season and this tells you that the flooded rivers had taken it's toll. What I do know now is that I shall be perching next season when the river is flooded during winter.
During the week I had talked to fellow Tench Fisher Archie to ask him about a couple of lakes. Archie was great in providing me with some good info and even offered to take me to a lake where there are some good perch.
Monday saw me head off to an interesting fishery that had produced some good fish to just under 3lbs. There had been plenty of 2lbers caught too. I arrived to find that lake was deserted and having not fished it before headed to the swim Archie had suggested. The sun shone for the entire day making it very bright. I was almost down to a tee shirt at times it was that warm out from the wind.
Well I fished very hard and learn't one of my biggest mistakes and one that I'll not make again. I won't mention it here I'm to embarrassed.
I used the normal prawn bait and ledger gear.
All I caught though was a 8oz perch and lost another. Now this is a very poor return for this water. But I had gone wrong big time! As I say a big steep learning curve!!
Still the fishery looked perfect for big perch and next year there will be one or two good fish to come out from it. A 3lbs 8oz perch came out during a match the previous day so I'll tuck this one away in the memory until next year.
So I was not best pleased with the result today but hoped to improve when I fished with Archie later in the week.
On Thursday I met Archie at the allotted time 06.30am and moved to the fishery.
It was pouring with rain and very windy. He gave me the choice of the swims so thinking about the rain and wind I tucked myself away in a corner with the wind almost at my back. Baiting with jumbo prawns and catapulting out maggots it looked good. The weather though was getting much worst.
Archie fished a couple of swims away with a similar setup.
A couple of times I thought the brolly would take off and eventually I had to peg it down in a couple of places to stop all the ribs from bending.
Time drifted by and I pulted out maggots every 15 minutes or so to get the smaller fish in feeding. Hopefully with the perch following them. I was also feeding much smaller cheaper prawns as feed too.
I don't like fishing with a coat on at all thinking that it's confining but needs must on this occasion.
Through the morning I had some really fast takes which I believe were from carp or tench. I couldn't hit anything.
At 11am I had a much slower take. The bobbin slowly jerkily rose to the rod and a quick strike met with a solid fighting fish. Just after hooking the fish Archie just happened to be coming up for a chat. We both agreed it was great timing. The fight was very exciting and was trying to take me under the staging at my feet. I said to Archie that I thought it was tench as it was pulling me around a bit. Archie said that normally perch come to the surface but this fish stayed deep, definitely a tench.
Well eventually this huge perch came to the surface and we both agreed that this was my 3lber. Quickly we netted it. Hand shakes all round and a big thanks to Archie.
The fish was kept in the landing net while we got the camera and weighing equipment ready. I let Archie weigh the sling and then the fish on my avon scales……….3lbs 15oz. WOW.
Archie went to get his electronic scales and on his the perch went exactly the same 3lbs 15oz.
Well what can I say a new pb and almost a 4lber. The size of the perch and beauty had me totally captivated.
Still that was my target achieved with plenty to spare. Archie did the deed with the camera and soon she was back in her watery world. Fan-bloody-tas-tic.
I couldn't care now about the wind and rain.
Things were stirring up nicely around me with plenty of rain and wind.
A friend (Stuart) turned up whom I used to share a syndicate on the Upper Bristol Avon. He was fishing with 6 friends on the lakes. We caught up on some news of what had been happening and had a good laugh. Him and his mate fished on the opposite bank from me and promptly started to catch plenty of skimmers and roach plus a few bonus tench.
I sat there hoping for more action. I had plenty though as I fed the following birds near my feet. Great, Coal and Blue Tit, Wren, Robin and Chaffinch.
Nothing happened for me for a while. I continued feeding the swim hoping that I might get another chance. Then at about 3.15pm I had another take with the bobbin jerking up to the rod. I struck again and feeling the fish on the end I knew I had hooked another perch. The fight was not spectacular but very satisfying in terms of not knowing what was on the other end of the line for quite a while. Archie came along to see a very nice plump perch of about two and a half pounds.
So out came the scales again and sure enough a lovely perch of 2lbs 10oz lay in the sling
As we started to take the photo's one of the other bite indicators started to show a take from a fish. So quickly Archie put the perch back into the landing net. I continued to play the fish whilst Archie organised the spare rod etc. This was a very good scrap from a perch, only thinking once or twice that it might be a tench.
Slowly the perch showed itself on the surface and it looked another good fish. Archie did a great job of netting the fish. Stuart and his mate wandered around the lake for a look. There in the net lay 2 great big perch. Archie did the honors again with the weighing 3lbs 3oz.
So what a great 15 minute spell. We left the perch in the net whilst I recast again hoping that more of the shoal might be tempted.
Archie again took the photo's so that the perch were out of the water for the least amount of time.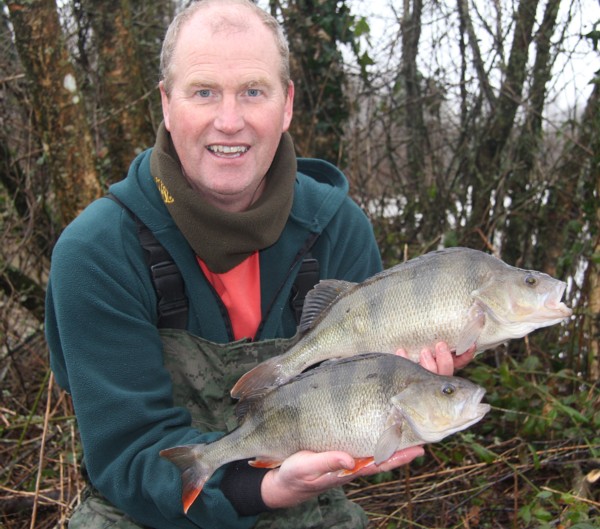 So two 3lbers in a day is a red letter day indeed.
The only problem was that Archie hadn't had a touch. Although I know he was very good natured about it, I was hoping that he would start to catch. The rain increased together with wind speed making it uncomfortable.
I couldn't believe it I had another fabulous take from a perch that fought really hard. Unfortunately I lost it right at the net and it looked every bit another 3lber.
I was still on cloud nine but disappointed about losing this perch.
Poor Archie was still not having any joy with the perch and my heart was willing him to get one. But sometimes that's angling. For me if others are catching fish and I'm not I normally throw them in, no what I mean is!! My philosophy is so long that someone is catching then it's great. And this time it was mine next time it will be Archie's.
Soon it was time to pack up for the day. Bloody hell it was wet and wild but I didn't care.
I couldn't thank Archie enough two pb's in a day plus the fourth largest perch I had caught.
3 perch for 4 oz under 10lbs excellent!
Happy days