3rd January 2012 Bristol Avon Happy New Year
Happy New year to all who read this. Let your rods catch you plenty of big fish this year.
Having be moaned the fact that the river hadn't had a flush through since last February I was woken last night with the rain pounding on the bedroom window. The storm raged for what seemed ages but at 11am the rain stopped and the sun poked out from the cloud. I had fancied fishing for barbel and knew the river would be rising. I phoned my mate Steve Coles to see whether he wanted to come out for a few hours. At 11.30 we were driving out through the flooded country lanes towards the chosen venue. On arriving the rain had stopped and the squelching walk over the flooded fields confirmed that the river would be on the rise. The swim I fancied was a great steady guide just above a snag where the barbel hide out during the day. The plan was to try and draw the barbel up onto the steady glide that had a perfect gravel bottom.
I was using a boilie with paste wrapped around it and a 3oz lead to ensure it held the bottom.
The baits were place pretty well under the rod top so hopefully not too much weed would catch on the line.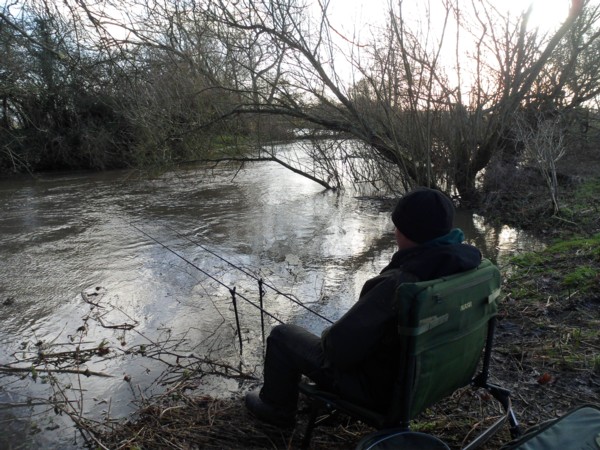 In the first 15 minutes the swim looked great then in 2 hours the river rose about 18″ and the dynamics of the swim changed into a boiling mass. Combined with the last 11 months debris coming down it made difficult fishing. After 3 hours and 3 moves up the bank from the ever rising river we decided to pack up.
Earlier we had seen another angler walk down the opposite bank and settle in another swim further downstream. So Steve and I walked down and found Martin Bowler fishing. He too thought it was perfect barbel conditions however like us the river debris was causing us problems. We chatted for about 20 minutes or so about the normal otter problem. The river was getting very angry with huge rafts of debris coming down.
Steve and I wandered back upstream to look at one other swim and Martin moved on to try another.