38 tench and 4 carp guiding Kevin.
Kevin wanted to catch a few tench. So after listening to him and understanding his needs I set about finding a couple of waters.
The first being a relative easy water where you can catch a good dozen or so tench in a day. They are not huge fish but can reach about 7lbs.
The second water was much more difficult and the tench had not put in too much of an appearance yet this season.
He agreed to the plan of fishing the first on day one, then try the harder lake.
So we agreed to meet at 7am on the first lake. I arrived at about 6.15am to ensure all the tackle and bait were in the swim. The weather was going to be kind to us at about 14c and clear skys after some cloud to start with.
We were to be using method feeder with plastic casters hair rigged. The other method would be the good old fashion Drennan inline feeder with red maggots, again plastic hair rigged.
First I found a clear spot at about 30-32 yds and it was here where I put out about 1 pint of hemp and about half pint of dead reds with a spomb. The depth was about 6ft.
So I set the rods waiting for Kevin to arrive. At 7.15 he still hadn't arrived, so I thought he would be held up in traffic. So I cast out with the two different methods.
It wasn't long before the caster and method feeder rod took off. Sure enough this is a decent tench or so I thought,  unfortunately  it turned out to be a common carp of about 8lbs.
So out went the rig again and soon enough it was off again this time it was a tench of about 4lbs. No spawn showing yet in their belly.
Then I had a double hookup one on the inline maggot and another on the method feeder. Both around the 4lb mark again. With so much action I decide to spomb out another lot of dead maggots and hemp.
It was 8.15 and no sign of Kevin so I phoned him, no reply. I was getting concerned now. The action continued fast and furious with tench after tench coming to the net. Ian the bailiff dropped by and again I had a double hookup. He took a photo of one which was 5lbs 9oz.
Finally I got a call from Kevin saying that he was called out in the night regarding work. He was just about to leave and should be with me in 3 hours.
Well the sport just didn't slow down. Fish after fish came to the net mostly on the method feeder and caster. By 1pm when Kevin arrived I had 2 carp and 19 tench.
Now it's times like this that you hope the fish don't turn off for the day. Luckily they didn't and within 5 minutes of Kevin arriving he too was playing a tench.  These fish were in good condition and fought really well.
Kevin then hooked a carp that fought well on the light tench rods. He then hooked another fish that didn't fight like any tench. As it approached the bank we could see that it was a good perch.
On the scales it went 2lbs 8oz.
It was mid-afternoon and the action was still coming on. Several times we had a double hookup which is always nice but a little concerning as you don't want the lines to tangle.
I just couldn't believe the action we were having.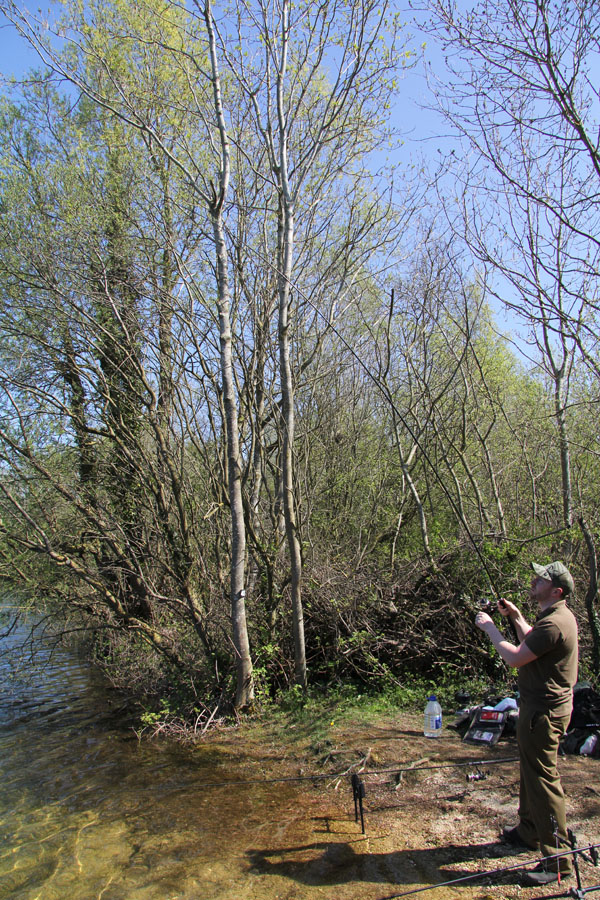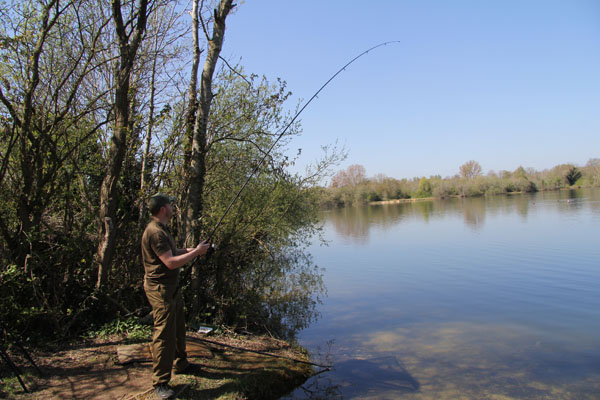 We agreed to pack up at 6.30 pm so that we could move onto the other lake and bivvi up ready for the night.
It was interesting that the feeding frenzy slowed as the evening approached. This is the reverse of what I've found in the past.
We kept the count going and it turned out to be 6 carp and 38 tench, for sure we could have capped 40 if we had stayed.
So what a session for Kevin.
We started to fish one area the next day for tench. Normally there are a fair number of tench moving around however with the comparatively cold weather nothing much seemed to be doing. We moved swims near lunch time to an area where some tench fishers had caught 8 over 48 hrs, hardly none stop action however tench were in the area. We fished really hard for the remainder of the day without a sniff of a bite.
So there you go that's tench fishing in two extremes.
However at least Kevin understands the tactics and methods used for tenching.