October 21st
Was invited along to the Oxfordshire & North Wilts PAC meeting by Vince Williams.
Well just had a great evening listening to Julian Chidgey on his epic pike sessions as a youngster and then as he grew older stretching himself to include new waters as far away as Scotland and Germany in the Baltic sea.
It's good to see that his humble beginnings was on waters in the Southwest England where he caught some good pike. However this part of the country is not the "hot bed" of specimen angling. Unless perhaps if you look at the pike in Chew Valley lake.
He also gave a very interesting talk on his quest for the Drennan cup and the route he took to achieve this. Although his use of 15 gallons of maggots to get his tench of 11lbs (I think it was) plus a 45lb common carp is perhaps outside most peoples budget. But there again if this is what it takes then good luck!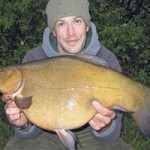 What also inspired me was the large roach caught from Willow lake on the Linch hill complex of lakes. This must be one of the best places currently to try for roach of 3lbs plus. I know it's been producing for such a long time but it seems as though it will continue to do so.
His pre baiting  for pike showed that it really works. I've read some information about this in the past but have been doubtful. I now know that it's would be folly not to use this on some of the featureless canals.
One last point that I thought was interesting was about fishing the Loch's. He said that 90% of the Loch was devoid of fish and that it was only the shallow bays that tended to produce. He treated these area's as if they were little lakes. I'm very much of the similar opinion when looking at large gravel pits. Break these down into smaller area's and then it become much easier to understand and get your head around.
A great evening and I even won a raffle prize.