10th March Bristol Avon Lacock
Having a few of pints of maggots remaining from my trip to the Stour I decided to target an area of the Bristol Avon where there are some heafty chub. Although these are not comparable with the Stour chub in size they are never the less as good in terms of river size and fighting ability. I was only going to fish the late afternoon and evening until dark with a shorter float rod of 12ft. This was for two reasons. To avoid the overhanging trees and secondly to help hold the chub from the snags as the shorter rod has a little more poke so to speak. Reel line was 4lbs 12oz with a light weight avon style float and 3.5lb hook link with a size 18 hook.
On my way to the river I bumped into Bob and then Paddy. These two fish together each week and are both good anglers. Paddy had shown me a couple of good swims where he had caught some good chub to just under 6lbs earlier in the year. He uses cheese paste to catch many of his fish and he is very successful. Not only is he great at coarse fishing he is a fly fishing coach and helps people cast. We have agreed that he can coach me to do the double haul in fly fishing.
They were both fishing for chub
I made my way to the swim Paddy had shown me with the thoughts of fishing it with a float thinking that the chub were under the trees and bushes that lined the bank. The river was clear and low ideal for the maggots approach.
I had caught a few chub previously but only 4lbers like this fish.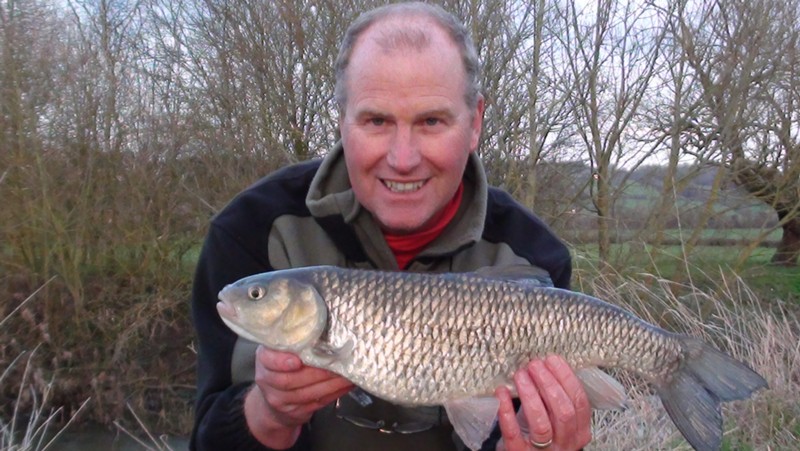 So after I had tackled up I catapulted out 20 or so maggots about 10yds upstream every minute so that they would drift down under the trailing branches of the trees and bushes. I did this for about 30 mins to make sure the chub were feeding well. I was looking for them to be competing for food. This is a very important process as casting in too quickly might spook the chub and rather than catching many you will only catch a few.
So it was time to see if anyone was at home. The 3bb float made little noise as it entered the river. The bb shot was about 18 inches from the hook which I hope would allow it to act similar to the maggots drifting down in the current.
It was a really windy day with gusts up to 45mph so float control was going to difficult and presentation challenging. So after 30 mins my first trot through produced a bite and a 4lbs plus chub tugged it's way around the swim trying for the branches but I was able to keep it out. It was in pristine condition with those winter bronze scales glistening in the sun. I went to see Paddy and invited him to fish the swim as there would be no doubt they would be feeding. He did decline and wished me luck.
After feeding again for about 5 minutes I cast in and first trot gave me another bite and a 2lber came out. This process was repeated and soon I had caught about 6 chub. One more of over 4lbs and some smaller. I lost one big fish that I just couldn't prevent from getting under the branches. I had it on for about 30 seconds or more and thought I had it beaten. It was a really good fish too as I saw it a couple of times.
I rested the swim for a while and visited another swim that Paddy said I should fish. Unfortunately the wind was getting stronger and I couldn't get a good trot through or feed it. I caught one small chub of about 1.5lbs.
I returned to the original swim and repeated the feeding process and caught 3 more chub of not exceptional size, but lost one more big lump of a chub where I held the fish in the flow not allowing it sanctuary of the branches. Unfortunately the hook hold gave out and that was it. I did say a few choice words.
The wind speed was increasing and gusts were making float control difficult. As dusk approached one gust took my line and promply stuck my float in the trees above. I had enough by this time!
So 10 chub with 2 4lbers was not a bad return, however those two lost fish niggled me. Next time it's size 16 hook and 4lb hooklink and lets show them who is boss.
I arrange with Paddy to meet the next afternoon a little further upstream where I wanted to trot a maggot through a couple of swims.
Bob had a good day and caught a few chub with the largest going 5lbs 6oz which is a very good fish from the Bristol Avon. Well done Bob a convert from barbeling now.