7lbs 13oz chub for Simon
I had met Simon about 5 years ago now fishing a bream water near Oxford. He is a quiet chap but a very able angler with some respectable pb's. Early in the year I had wanted a change of scenery and fancied some time on the upper Thames fishing for chub. I really wanted a 6lb chub from there. Simon was contacted and he gave me some great pointers as to where to fish. And as a thank you I said I would give him a day on the H.Avon. Well that day arrived and we were meeting up at 7am ready for some chub fishing.
We walked and looked for chub feeding in several swims, just tossing in a few pellets. Some swims produced chub and barbel others where the chub didn't show.
Our first spot gave Simon to see the chub and 3 barbel come in over the bait and start feeding. He thought this very cool. I was giving the running commentary of what was happening whilst he was on the rods. The chub picked up the baited hook a few times and the rod bounced in the rest. I could see exactly what was happening. Then suddenly the shoal of feeding chub bolted and Simon was playing a modest chub of about 4lbs.
After the commotion the chub and barbel were spooked so we were off to a swim where I had previously had some excellent chub and it's one where there is always a possibility of a 6lber. The rigs were the standard 5ft floro lengths of hooklink with a couple of pellets super glued to a size Korum specimen size 12.
I fed a few pellets in by hand to get the chub feeding. Out went the rig. We settled back and waited for something to happen. I said to Simon that it looked like someone had fished it the day before as there was some weed on the bank. I said we would give it an hour and see what happens.
I'm of the sequence of events but it was something like this. The first fish Simon caught was a 5lbs 8oz chub which looked a nice fish. Then as the afternoon wore on Simon had another bite from a chub which pulled really hard as it almost got into the willow branches. However with Simon's big fish experience he guided it downstream to the waiting landing net. It looked huge and on the scales it went 6lbs 10oz. I thought that's my job done for the day.
RESULT!!!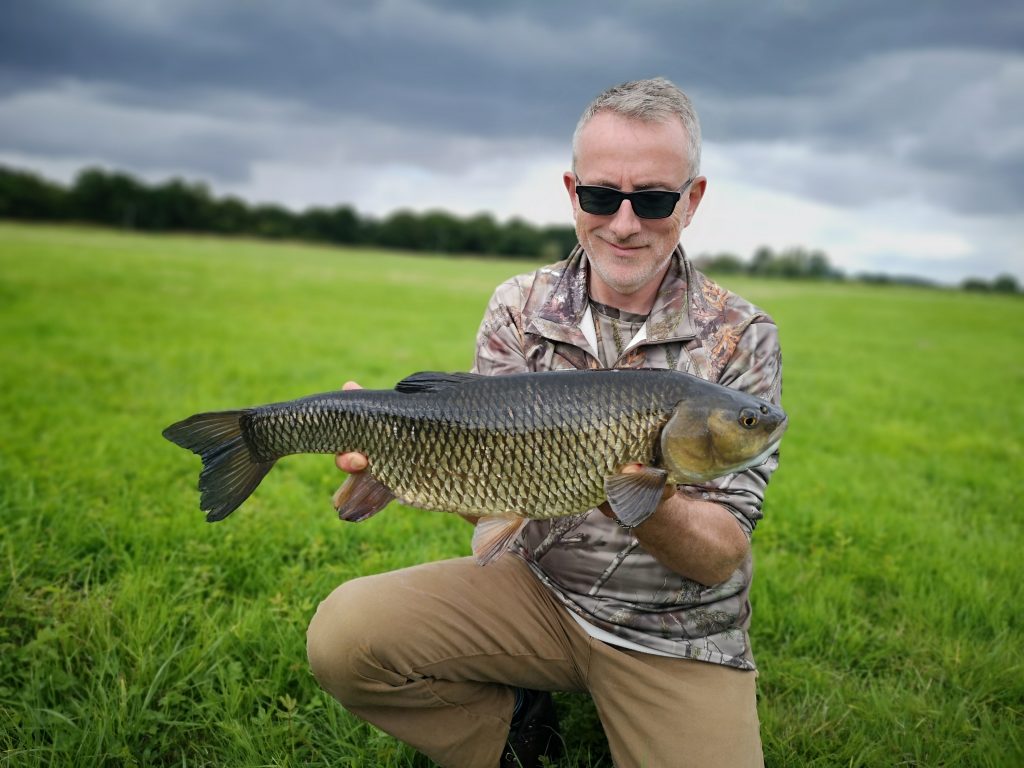 Simon was over the moon with a 6lb plus chub from a river he had never cast in before. So a few more pellets were put out together with the rig. We waited another 20 mins or so and once again the rod top nodded and the tip rattled and Simon lifted into another chub. This one fought hard too and Simon walked back into the field in an effort to stop it reaching the willow branches. Slowly it came into mid river and there was just the dense weed bed to avoid which it did. The fish was soon close in and I netted it quickly. On lifting it out of the water I thought it's huge. Then once on the unhooking mat it look hideously enormous. We both thought 7lbs.
On the scales it went 7lbs 13oz and a new pb by a country mile for Simon. We both had a little jig and then some man hug's. Then we got down to some serious photo work.
First a still shot then a little bit of video work.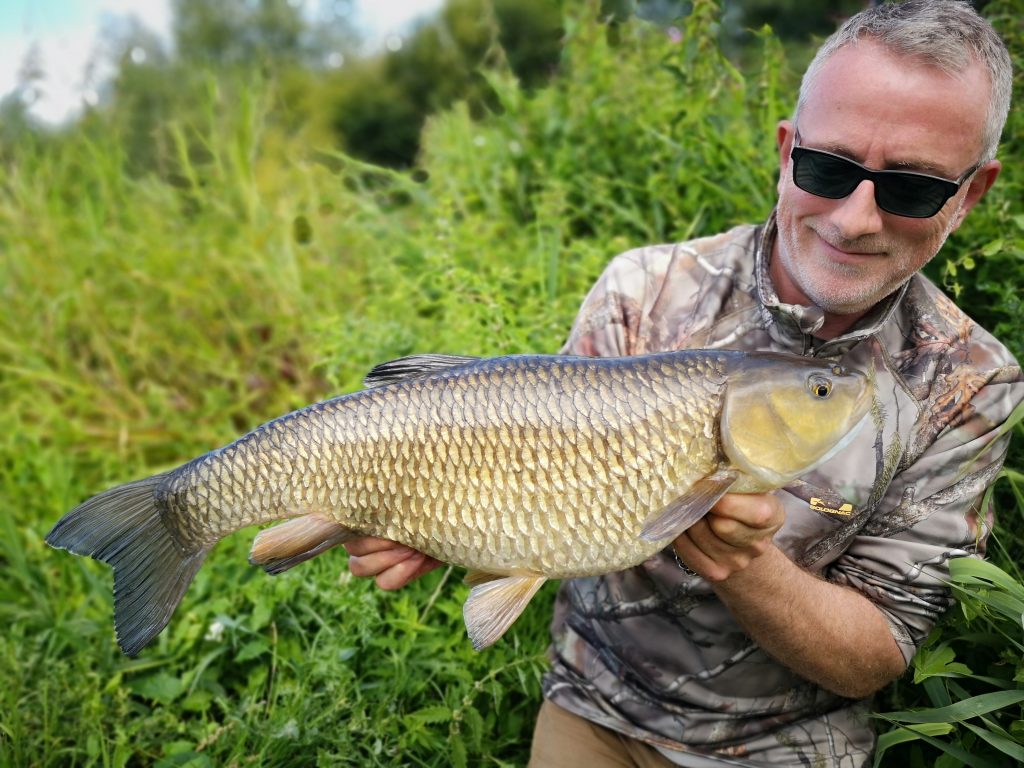 To say we were both excited would be the worst possible understatement. It's not often you get a chance to see a beautiful creature as this.
We visited a couple more swims once the bites dried up but nothing much came out to feed on the pellets.
It was a case of the right time right place for Simon.
Thanks Simon for a wonderful day in great company and stunning chub.